Grab and Go/Green Plate
Next to the Water Street Café is a fully stocked Grab & Go cooler. The shelves hold wrapped and ready-to-eat sandwiches and wraps, as well as dips, salsa, parfaits, desserts, salads, salad dressings, and much, much more. The menu rotates but a wide selection covering both vegetarian and omnivore options can be found here. Several items are made gluten free as well – just look for the orange stickers marking these choices.
Find bulk olives here as well!
Green Plate Program: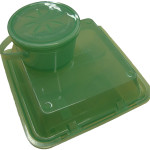 Pick a 100% BPA-Free Container.
Fill it with food from the Café Hot Bar.
Bring your container to the register to purchase food and container.
Bring back your used container to the Café and swap for a clean replacement OR swap for a "Green Plate Container Ticket" to keep in your wallet until the next time you need a container.
Fill the replacement container with food to purchase.
It's that simple!
The Green Plate Program was developed by our staff to reduce waste as a business and reduce negative impact on the enviroment.  This grass roots effort to lessen our carbon footprint and create less land-fill waste gives customers an option to choose a food take out container that is reusable.
Purchasing food from the Water Street Café to take out is a service we have long offered our customers.  Currently, we purchase "to-go" containers made from recycled paperboard and endorsed by the Green Restaurant Association. We will still continue to carry these containers, however, we feel the need to offer another way for customers to feel even better about purchasing Café food and packaging. This program is a good starting point.  Know your participation will help benefit our community and world as a whole.
All you need to do is pay the initial one-time cost for the container itself. You can feel great about doing something positive for the environment while enjoying the benefit of saving money otherwise spent on disposable to-go containers. A win-win situation.