To download the full catering menu click on the image of the menu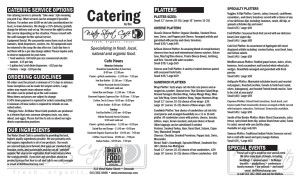 Catering Service Options
Our catering service is primarily "take away" style meaning you pick it up. Other services can be arranged if possible.
Delivery: For orders over $500 we do take considerations for local, in-town deliveries. We charge a 15% delivery/gratuity charge for delivery and set up. We reserve the right to refuse this service depending on the situation. Please consult with the café manager for this special service.
Equipment Rental: We can provide some items such as food warmers, drink dispensers, coolers, etc. All equipment must be returned to the Co-op the day after use. Each day item is out there will be a per day charge added. Please inquire early to reserve equipment for your event.
• Food warmers- full hotel pan size commercial electric warmer – $15 per day
• 5 gallon hot/cold drink dispensers – $10 per day
• Coolers – large – $10 per day
Ordering Guidelines
All orders must be placed a minimum of 7 days in advance. Some exceptions can be made for simpler orders. Large orders may require more advance notice.
All orders can be picked up at the Café counter.
Menu items and prices are subject to change.
A 50% down payment is required for orders exceeding $300.
A minimum 24 hour notice is required for refunds on cancelled orders.
*Allergen Note: All Water Street Café products are produced in a kitchen that uses common allergens (nuts, soy, dairy, wheat, and eggs). Please feel free to ask us about our ingredients or production practices.
The Water Street Café is committed to providing the best, highest quality ingredients possible. We use primarily certified organic ingredients in all of our products. Our meats are sourced from local farmers that pass our standards for humane, clean, and sustainable and are not all "certified" organic. We source our vegetables from local farmers when the season permits. If you have any questions about our products please feel free to call and talk to our Café Manager or email at cafe@oneotacoop.com.