The Sweet Spot
By: Kristin Evenrud, Grocery Manager and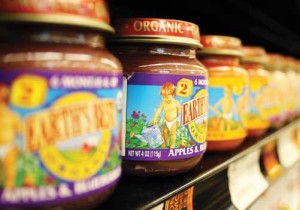 Nate Furler, Marketing & Outreach Manager
The Oneota Co-op implemented a written merchandising policy beginning in 2008. Our overall goal when it comes to product selection is to have the best product available at the best price while still adhering to our policy. We want every product we sell to be at the top of the charts when it comes to clean good and wholesomeness. However, when trying to meet the diverse budgetary needs and tastes of our members and shoppers, it cannot always be the case that we carry only the top-of-the-line, 100 percent organic, non-GMO, small family or cooperatively-owned products.
We can, however, help to guide shoppers in the direction of the "best" and "cleanest" products by giving them the most prominent positioning on our store shelves. The best placement in a grocery store is in the center horizontal strip of any particular shelving. This "sweet spot" has been defined by the industry to be two feet up from the bottom shelf and two feet down from the top shelf. In some cases, at Oneota, product placement is based on package design. However, we primarily put the independently-owned, organic, lower-sugar and sodium, doing-it-environmentally-right companies in that sweet spot.
We have all undoubtedly heard the old adage "buyer beware." When we hear it we usually think of it as a warning against buying a lemon-quality car or cheap electronic device. However, we need to think about it every day as it can pertain to our food as well.
When it comes to labeling, the term "natural" has very little regulation – with FDA standards for the term only prohibiting artificial colorings and additives. Natural does not have anything to do with the amount of pesticides used in the production or handling of the item.
The term "organic" is regulated by the USDA. However, some companies adhere to the bare minimum requirements, while others go beyond what is necessary to be deemed certified organic.
The accompanying article, "Food Labeling 101", gives a brief outline of what it takes to have natural or organic on a product label.
At the Co-op, we attempt to carry a variety of the best products at the best prices. While doing so, we seek to steer the purchasing of products by the consumer to the best and cleanest product on the market. We work each day to fine-tune our buying to make sure we have an assortment of "cleaner" products to meet the needs of the many consumers that enter the doors of the Co-op. As always, we welcome your feedback on our product mix and look forward to the conversation that results from your thoughtful input.