The Many Uses of Tofu… when Replacing Dairy
by Johanna Bergan, Education and Outreach Coordinator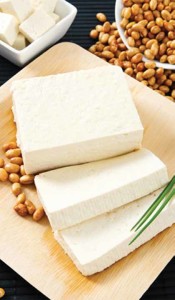 Tofu is known for its versatile style and its ability to absorb any flavor in a dish. Tofu is also known to pack a powerful punch of protein with less than a third of the calories in an equivalent serving of beef. More protein, fewer calories – what's not to love? Well…there is the fact that you have to figure out how to use tofu. Never fear – we have expertise and recipes.
Tofu is commonly used as a source of protein in vegetarian dishes. While making stir fry one can easily exchange the beef or chicken with tofu. There are many more uses for tofu. Vegetarian and vegan cooks are frequently using tofu to replace eggs and dairy. The recipes we've included explore ways to use tofu to replace dairy products. Each recipe would be ideal to serve to vegan friends or family, but do not be surprised if bacon-lovers find themself in love with the end result. These recipes could easily be served to a group of omnivores, vegetarians and/or vegans without the need to have multiple dishes made to accommodate dietary choices.
Tofu Ricotta Cheese
Recipe from Johanna Bergan
Ingredients:
One package extra firm tofu (Sprouted Wildwood 10 oz. recommended)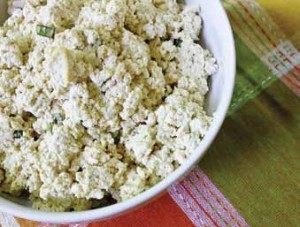 ¼ cup raw cashews
2 tablespoons extra virgin organic olive oil
2 tablespoons organic lemon juice
1 clove crushed garlic
Sea Salt to taste
1-2 teaspoons dried herb of choice (basil, thyme, parsley)
Directions:
Place all ingredients in food processor. Pulse until mixture comes together, forming coarse balls.
Use this "cheese" on sandwiches, in wraps, on top of spaghetti or in lasagna. Replace in recipes 1:1 for cottage or ricotta cheese. Try using half tofu ricotta "cheese" and half regular ricotta cheese in a vegetable lasagna recipe – pump up the protein and the flavor.
Deluxe Vegan 
Cocoa Brownies
Isa Chandra Moskowitz & Terry Hope Romero's "Vegan Cookies Invade Your Cookie Jar"
Ingredients:
3 oz. firm silken tofu (check out the shelf stable Mori-Nu tofu)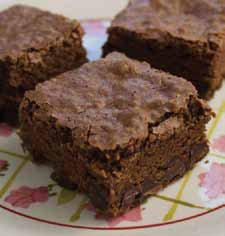 ¼ cup nondairy milk
½ cup canola oil
1 cup sugar
2 teaspoons vanilla
1 cup flour
½ cup unsweetened cocoa powder
1 tablespoon cornstarch
½ teaspoon baking powder
½ teaspoon salt
1 cup chopped nuts of your choice (optional)
Directions:
Preheat oven to 325°F.  Line an 8 x 8 inch brownie pan with parchment paper, covering the bottom and sides. Puree the tofu, nondairy milk, and oil in a blender or food processor until smooth and fluffy.  Use a rubber spatula to scrape the sides. Transfer tofu mixture to a mixing bowl.  Use a fork to vigorously mix in the sugar.  Add vanilla. Sift in the flour, cocoa powder, cornstarch, baking powder, & salt.  Use a spatula to fold & mix batter until smooth. Transfer the batter to the pan and smooth out the top. Bake brownies for 30-32 minutes, remove the pan from the oven, and let brownies cool for at least fifteen minutes before serving.
Coconut Lemon Bars
Recipe from "Whole Living," September 2012
Ingredients:
For The Crust
½ cup coconut oil, melted, plus more for brushing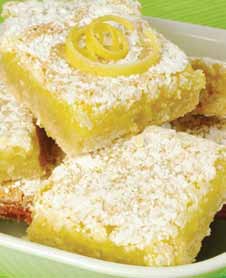 ¼ cup cane sugar
1 teaspoon pure vanilla extract
¼ teaspoon coarse salt
1 ½ cups whole wheat pastry flour For The Filling
½ cup silken tofu
¾ cup cane sugar
1 tablespoon grated lemon zest
¼ cup lemon juice
¼ teaspoon baking powder
2 tablespoons whole-wheat pastry flour
Confectioners' sugar, for dusting
Directions:
Heat oven to 350° F. Brush an 8-inch-square baking dish with oil, then line with parchment, leaving an overhang. Brush parchment with oil. Set aside.
Make the crust: Stir together ½ cup oil, sugar, vanilla, and salt. Add flour and stir until just combined. Press dough into prepared dish and bake until pale golden-brown, about 20 minutes.
Meanwhile, make the filling: Process tofu, sugar, lemon zest and juice in a food processor until smooth. Add baking powder and flour and process, briefly, until smooth. Pour onto baked crust and bake until set, 25 to 30 minutes more. Let cool completely, then dust with confectioners' sugar and cut into squares.