Spotlight on Local: Country View Dairy – Hawkeye, Iowa
Country View Dairy is a new farmstead creamery located in Hawkeye, IA. Dave and Carolee Rapson, Country View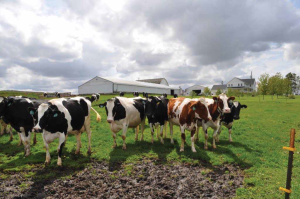 Dairy owners, came to Iowa 15 years ago to start a dairy farm. At the time they were newly married and starting a family. They have since grown their family—they now have 5 children ages 4 to 17—and their farm operation—to a herd of 280 cows producing 20,000 lbs of milk per day. The newest addition to the family operation is the Creamery—operational since September 2011—pumping farm fresh rBST-free milk less than 200 feet over from the milk house to make the Creamery's signature product, all natural farmstead yogurt.
Back when milk prices recently plummeted and the instability of the market became painfully evident, the Rapsons started thinking about ways that they could make their farm financially sustainable over the long-term. Expansion of the farm wasn't an option due to the high cost of land. So they began exploring other ways they might add value to their high quality milk. Was there a product they could produce and market successfully themselves rather than relying on the sale of pooling their milk on the open market?
Carolee had been making yogurt for their family in her kitchen for years and knew how to create a product that her family enjoyed on a small scale. After discovering that there weren't any other local yogurt producers in Northeast Iowa and that market trends were pointing toward increased demand for local, healthy, all natural cultured foods like yogurt, the Rapsons decided to pursue making yogurt on a large scale as well.
Country View Dairy built a state-certified yogurt processing facility on their farm. After many trials and lots of assistance, they have successfully developed an original, creamy, and delicious all natural yogurt recipe. They are selling this high-quality farmstead yogurt at the Oneota Co-op.
At the Co-op, Country View Dairy yogurt is available in 3 lb plain and vanilla. Beginning in September we will carry some of their 6 oz and 24 oz flavored yogurts, which are now available with all-natural flavors. The Co-op will soon be carrying a new Greek-style yogurt they are in the process of developing.
All of Country View Dairy's yogurt flavors are made from low fat (1%), Grade A pasteurized milk from their own antibiotic and hormone-free cows. Their milk cows live in a free-stall barn, while their dry cows live on pasture. Their milk is non-homogenized, allowing the cream to rise to the top the old-fashioned way, with the added benefit of making it easier to digest. Each flavor is made with the highest quality ingredients and cultures, and each is "all natural" in every way—containing no preservatives, no gelatin or other thickeners and no artificial ingredients. Country View Dairy yogurt is always gluten-free.
A retail store on the farm will also be opening in the near future (possibly spring), where you can go to see the farm, meet the cows, and if you're lucky, view yogurt being made. Country View Dairy is located at 15197 230th Street, Hawkeye, IA.
Join Country View Dairy at the Co-op for an in-store sampling September 8th from 11:00 to 2:00 pm.
Country View Dairy welcomes any feedback, questions or comments you may have and can be reached atrapsondairy@netins.net.