Mrs. Fizzleby Ferments
By: Beth Rotto, Cheese and Chill Buyer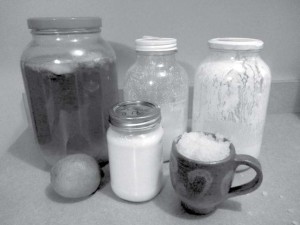 My husband calls me Mrs. Fizzleby. I've started fermenting bubbly tonic drinks, and now I've got the bug (literally!). My cupboard is fizzling away with various jars of delicious, fruity tonics. And I'm devouring a new book we have for sale at the Co-op, "The Art of Fermentation: An In-depth Exploration of the Essential Concepts and Processes from around the World with Practical Information on Fermenting Vegetables, Fruits, Grains, Milk, Beans, Meats, and More" by Sandor Ellix Katz. How about that? I believe this guy is a genius. The first chapter called "Fermentation as a Coevolutionary Force" had me spellbound- no kidding! Then I started browsing the various sections containing the basic concepts for making many things I hadn't thought about producing myself. Wow! Make my own miso?
To quote from Michael Pollen, from the foreward, "Sandor Katz writes about the transformative power of fermentation with such infectious enthusiasm that he makes you want to try things just to see what happens." That's it! Just the book I need for fun in the kitchen this time of year. I've been inspired to make my own kefir (I'm using the packets of Yogurmet kefir starter we sell) and my own buttermilk (by adding a 1/4 c. Organic Valley buttermilk to a quart of milk and letting it sit on the counter overnight to be transformed), then mixing up buttermilk pancake batter and let it sit overnight to make it better (I'm still not sure how many days the batter keeps while still producing light, delicious pancakes, but I know it's at least three.).
Years ago, I made yogurt but never was entirely satisfied with the results. Now I've read Katz's troubleshooting section on yogurt and I'm ready to try again. "The Art of Fermentation" contains great explanations and interesting history. (I also am inspired by a Co-op shopper who's been making yogurt for two years, always using a portion of his previous batch to start the next.)
Fermented foods have traditionally been found in every culture as a means to preserve food and to aid in its digestion. Although fermenting and culturing our food has been called a dying art, I hope that it's actually a part of a food renaissance. The book "Art of Fermentation" certainly will add to the cause. Fermentation processes takes some nurturing and practice, but as we share what we culture, we can inspire others, re-energize our community, and cultivate living works of art. I'm all excited to tweak new recipes, locate good jars, bottles and lids, and plan upcoming menus. When harvest season comes around this year, I might try fermenting sauerkraut and other garden vegetables. What about you?
Making good food takes some thought, creativity and experimenting, and I think it's great fun. So try something new, take notes, and adjust based on your experience. Resize your recipe so that it fits in the pans, bowls, or jars that you have. Ask yourself, "What herbs or flavors would make this better?" "How can I streamline my system?" "What size recipe is right for my household?"
If you aren't ready to have ferments filling your counters but would like to add more fermented foods to your diet for the beneficial aspects of these foods, look to the Oneota Co-op. When I think about it, I work in departments alive with fermented foods – sourdough bread, cheese, and in the refrigerated department there's sauerkraut, kim chi, pickles, kefirs, yogurts, miso, tempeh, Good Belly juices and other probiotic drinks, cultured butter, sour cream, buttermilk and more.
Sandor Katz points out that Tempeh Reuben Sandwiches contains four fermented foods: bread, tempeh, sauerkraut and cheese. Here's how I make mine:
1. Saute thin slices of tempeh in oil. I cut mine in half lengthwise, then into thirds. The tempeh can be marinated in tamari sauce diluted with a little water, along with curry powder, or with paprika and dill.
2. Spread a homemade Thousand Island dressing on toasted rye bread. Mix together 1 c. mayonnaise or veganaise, 1/4 c. catsup and 1/4 c. sweet relish for the dressing. Place tempeh slices on top.
3. Cover tempeh with a generous portion of warmed sauerkraut and slices of Swiss or Emmenthal cheese. Pop under the broiler for a minute to serve open faced, or put another piece of toast on top and enjoy.
One of my good pancake experiments:
In the evening, stir together 1/2 c. unbleached flour, 1/2 c. whole wheat flour, and 1/2 c. buckwheat flour with 1 1/2 c. buttermilk and 1/2 c. blueberries. Set on the counter and let it begin to ferment. In the morning, stir then add 3 T. sugar, 1 tsp. baking powder, 1/2 tsp. baking soda, 3 T. sugar, 1 tsp. salt, and one lightly beaten egg. Stir until mixed. The batter will be all bubbly and your mouth will start watering. Bake them on a medium hot griddle as for all pancakes. We ate these topped with applesauce, plain kefir or yogurt and a little maple syrup. You can make as many as you want and keep the leftover in the refrigerator, ready for the next day or two.