Moosewood Restaurant
By: Beth Rotto, Cheese Buyer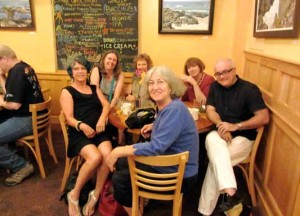 While on a family vacation recently, I had the thrill of visiting the Moosewood Restaurant in downtown Ithaca, New York. Like many longtime Co-op members, I have well-worn copies of Moosewood cookbooks going back to the 1970s. My husband, Jon, actually gave me the original Moosewood Cookbook on Valentine's Day, 1979. I learned to cook the food found in our first co-op store – mainly grains, beans and herbs – with directions found in those first Moosewood cookbooks.
Moosewood cookbooks feature creative vegetarian cooking with familiar and eclectic recipes from around the world. Currently there are at least a dozen books, including "The Enchanted Broccoli Forest," "Sundays at Moosewood Restaurant," "Moosewood Restaurant Cooks at Home," "Moosewood Restaurant Cooking for Health" and more. Using recipes from their first cookbooks, I tasted pesto for the first time, sautes with garbanzo beans and other unfamiliar vegetables, miso soup, rice salads, meatless lasagna and much more.
Philosophically I had become a vegetarian at age 22, after reading "Diet for a Small Planet" by Frances Moore Lappe because I was concerned about hunger and the politics of food. Many of my friends were making this choice as well, but we didn't really know about vegetarian cooking. I remember one meal with friends who served steamed whole carrots in hot dog buns complete with catsup and mustard. Can you see why we were so excited to find out how to make guacamole, quiche, and curries from the Moosewood cookbook?
In addition to their delicious recipes, the Moosewood Restaurant was a great inspiration because it was, and still is a collectively-owned business. The restaurant has been collectively owned since 1973, and some of the original collective members are still working together there. As a member, myself, of Oneota Co-op's original collective management team (I was on the collective from 1981-1988) I admired this successful business from afar. The 1970s and 1980s were an exciting and challenging time in the history of our Co-op, as we struggled to build our business and make good decisions for our store and community.
Moosewood made me proud because they were a thriving collectively run business, sharing responsibilities and resisting a heirarchical structure. Their work, like ours, reflected concern for health, agriculture, peace, justice and community. That's why, last August, I was quite excited, after enjoying a delicious meal featuring fresh, local ingredients at the original restaurant, to stumble on a table full of Moosewood collective members. I could hardly believe it! Full of energy, they graciously welcomed us, asked us questions and smiled for our cameras. They were just concluding a dinner meeting with their publisher about their newest cookbook, to be released in September 2013. I told them I intended to tell you all about our meeting in the Scoop. Greetings from Moosewood!
Look for Moosewood Cookbooks for sale in our book section.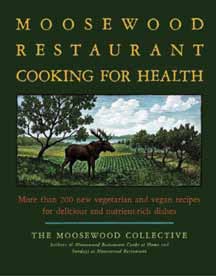 Thai Red Curry
A delectable curry that is well paired with brown rice or whole grain pasta to soak up the highly flavored sauce. Serves: 4, Yields: about 7 cups, Time: 50 minutes
Ingredients:
8 ounces firm tofu, cut into 3/4 inch cubes
2 Tbsp soy sauce
1 Tbsp grated, peeled ginger root
4 tsp vegetable oil
3 garlic cloves minced
1/4 cup minced shallots or onions
1 Tbsp Thai red curry paste (see note)
1 14-ounce can of coconut milk
1 cup water
2 Keiffer lime leaves (optional)
1 cup ¼-inch-thick diagonally sliced carrots
3 cups bite-size cauliflower florets
1 cup cut green beans (2-inch pieces)
1 red or yellow bell pepper cut into 2-inch strips
1/2 cup chopped fresh basil or cilantro, or both
1 Tbsp lime juice
Directions:
1. In a bowl, toss together the tofu cubes, soy sauce, and 1 teaspoon of the grated ginger. Set aside for at least 10 or 15 minutes while you prepare the vegetables. Then drain the tofu cubes, reserving the marinade.
2. In a skillet on medium heat, warm 2 teaspoons of the oil and add the drained tofu cubes. Cook for about 5 minutes, stirring occasionally, until the tofu is golden. Set aside.
3. In a soup pot on medium-high heat, warm the remaining 2 teaspoons of oil, add the remaining 2 teaspoons of ginger and the garlic, shallots, and red curry paste, and cook for about a minute, stirring constantly to prevent scorching. Stir in the coconut milk, water, and lime leaves, if using, and bring to a boil on high heat. Stir in the carrots and cauliflower, bring back to a boil, reduce the heat, and simmer for 5 minutes. Add the green beans and simmer for 2 or 3 minutes, until all of the vegetables are crisp-tender. Stir in the lime juice and add salt and more curry paste to taste.
NOTE: Know your curry paste. Hotness varies, so start modestly – you can add more later.
VARIATIONS: Substitute your favorite vegetables for those we call for in this recipe but try for a variety of colors. Try sweet potatoes for the carrots, asparagus or snow peas for the green beans. Baby corn and straw mushrooms are good additions.
SERVING AND MENU IDEAS: Serve on brown rice or whole grain pasta, garnished with lime wedges and topped with chopped peanuts or cashews.
"Moosewood Restaurant Cooking for Health" Moosewood Collective, November 2009 Simon and Schuster . Reprinted with permission of Moosewood Inc.
Stracciatella 
Stracciatella means "torn to rags or tatters," which describes the egg and cheese mixture cooked in this classic Italian soup. We've added greens to create a filling and healthful dish. This quick and simple soup, best eaten as soon as it comes off the stove, is one of our favorite at-home suppers. Yield: about 6 cups, Time: 20 minutes
Ingredients:
2 large eggs
2 Tbsp grated Parmesan cheese
Pinch of grated nutmeg (optional)
Sprinkling of salt and ground black pepper
2 Tbsp extra-virgin olive oil
3 garlic cloves, minced or pressed
Pinch of red pepper flakes
2 cups lightly packed chopped fresh spinach
¼ cup chopped fresh basil
2 cups vegetable broth
2 cups water
1 Tbsp lemon juice
Directions:
1. In a bowl, beat the eggs with the Parmesan, nutmeg, salt, and pepper. Set aside. 2. In a soup pot on low heat, warm the oil. Cook the garlic and red pepper flakes for 30 seconds. Add the spinach and basil and stir until the spinach has just wilted. Add the broth and water and bring to a boil. Then reduce to a low simmer and drizzle the egg mixture into the center of the pot in a thin stream while stirring gently. The egg mixture will form "tatters" as it hits the hot liquid. Be careful not to over stir. Stire in the lemon juice and add salt to taste. Serve right away, while the spinach is bright green. VARIATION: Replace the spinach with other greens such as escarole, mixuna, chard, arugula, or watercress. SERVING AND MENU IDEAS: Serve with crudités and whole grain bread. "Moosewood Restaurant Cooking for Health" Moosewood Collective, November 2009 Simon and Schuster . Reprinted with permission of Moosewood Inc.
Spinach Quesadillas
Whole grain, less cheese, lots of nutrient-rich spinach – and it's still a quesadilla. Kids gobble these down. Dip the triangles in your favorite salsa.
Serves: 4, Yields: 4 Quesadillas, Time: 25 minutes
Ingredients:
1 Tbsp olive oil
2 cups finely chopped onions
1 fresh chile, minced
5 cups chopped fresh spinach, large stems removed, (about 10 ounces)
pinch of dried oregano
1/4 tsp salt
1/4 tsp ground black pepper
4 8- or 10-inch whole wheat flour tortillas
1 cup grated Monterey Jack cheese
Directions:
1. In a large saucepan on medium-high heat, warm the oil and cook the onions and chiles for 4 or 5 minutes, until softened. Add the spinach, oregano, salt and pepper. Stir until the spinach has wilted, a minute or two. Remove from the heat and drain.
2. Place one of the tortillas in a dry skillet on medium heat (for a crispier quesadilla, lightly oil the skillet). Sprinkle on 1/4 cup of the grated cheese. After about a minute, when the cheese has begun to melt, spread 1/4 of the drained spinach mixture over half of the tortilla. Fold the tortilla over the spinach and cheese to make a half-circle and cook for a minute. Turn the quesadilla over and cook until the cheese is thoroughly melted and the bottom of the tortilla is speckled brown, about a minute.
3. Remove the quesadilla and slice it into wedges. Repeat with the remaining tortillas.
SERVING IDEAS: Serve with your favorite salsa.
"Moosewood Restaurant Cooking for Health" Moosewood Collective, November 2009 Simon and Schuster . Reprinted with permission of Moosewood Inc.