High Quality, Competitive Prices, Co+op Basics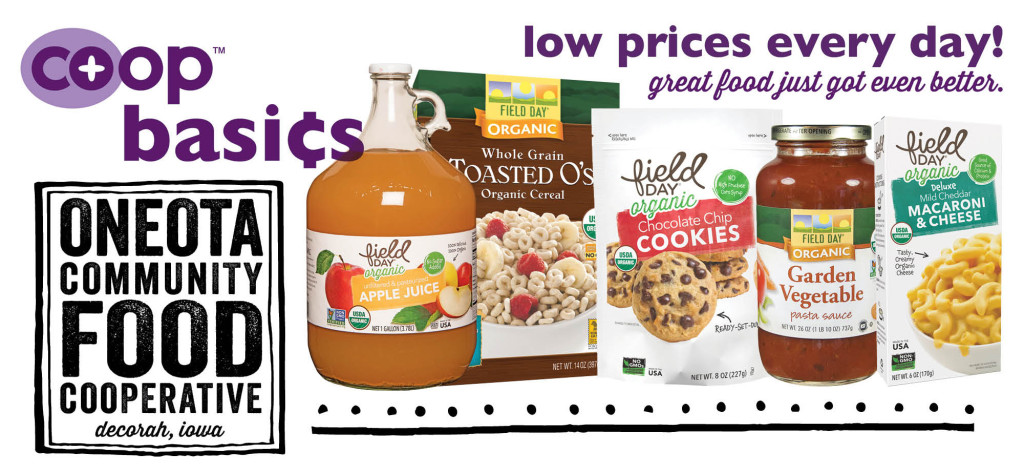 Looking to stretch your grocery budget? So are we! That's why we're pleased to introduce our new Co+op Basics program. Co+op Basics offer everyday low prices on many popular grocery and household items. Look for featured "Field Day" and "Natural Value" brands at the Oneota Co-op to find competitively priced certified organic and natural items.
Don't worry, we aren't paying our farmers or employees any less. We're simply committed to improving our selection so that everyone can find more value when shopping the Co-op.
Plus, don't forget to take advantage of these other great ways to save when shopping the Co-op:
Co+op Deals – our bi-weekly flyer focused on packaged grocery. Look for flyers at the front of the store and our green Co+op Deals sale signs in the aisles. These sales are available to all shoppers of the Co-op. You can check out our December flyers on the pages of this publication too.
Member Deals – member/ownership has its perks. Look for special Member Deal (orange) sale signs throughout the store and become a member/owner today to take advantage of these sale prices.
Shop Bulk – save when buying just what you need – whether it's a pinch or a pound.
Special Orders – member/owners save 15% off the retail price when placing special orders. Case quantities vary, but savings add up when you buy by the case.
Member Appreciation Days (M.A.D.) – these special member/owner sale days treat Co-op member/owners to an additional 10% off most items in the store. Combine this with your 5% once a month member/owner discount and this jumps to 15% off for your same MAD sale shopping trip.
Coupons in the aisles – check out the sales floor for extra savings with our bi-monthly Co+op Deals coupons. Every once in a while you will even get lucky and there will be a coupon for use on a sale item – adding up to an extra deep discount.
Shop your local, community-owned, food co-op and invest in your community through something as simple and tasty as filling your pantry.