Harmony Neighbors – Harvey Gingerich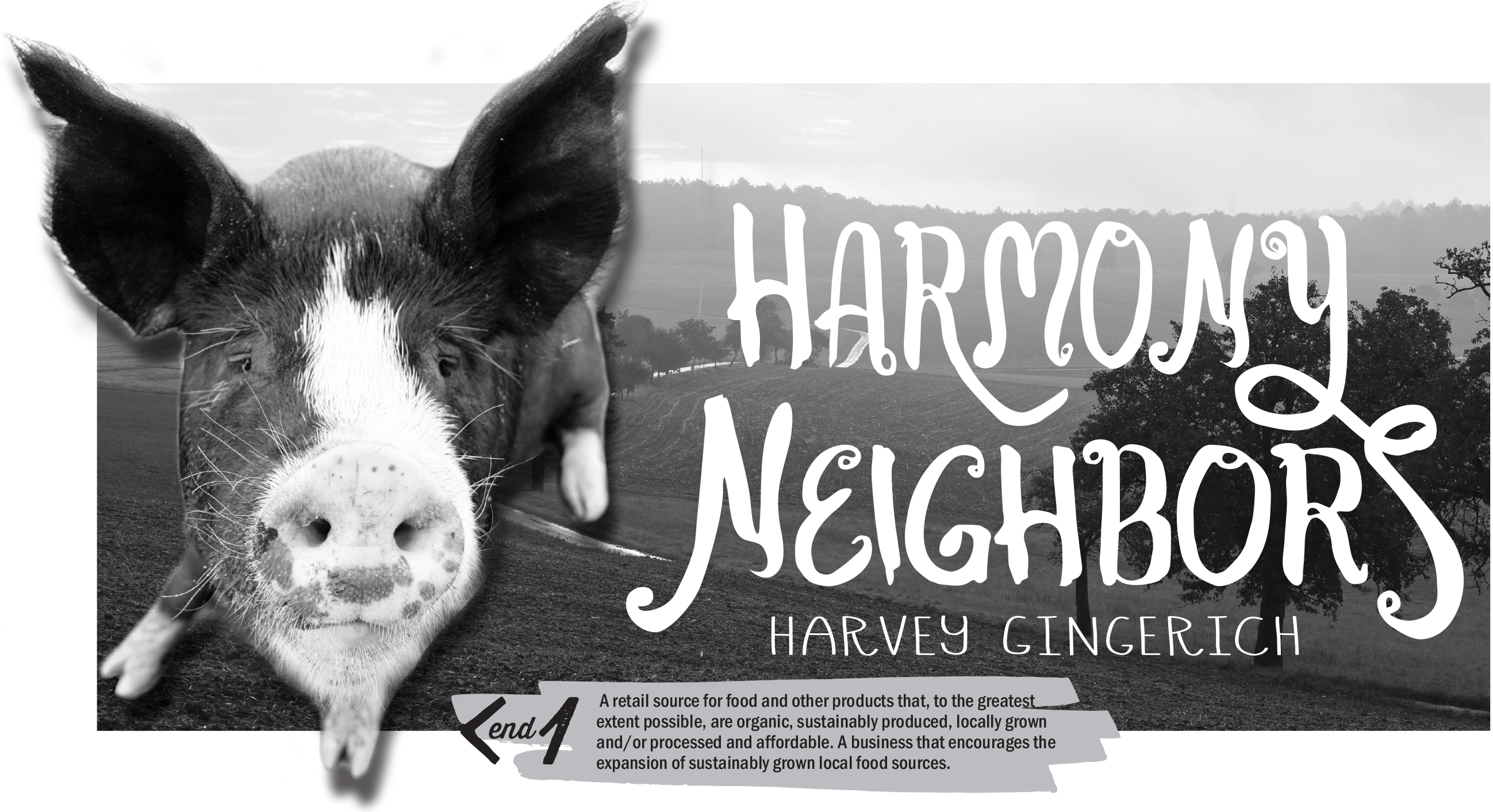 By: Kristin Evenrud, Grocery Manager

Up in the Canton-Harmony backcountry, there is beautiful, almost idyllic land with streams and groves of trees interspersed with farmland being tended by a group of Amish neighbors. In particular, there is an area of land being cared for by a group known as the Harmony Neighbors. This group of farmers who "are trying to take care of what we have," are raising 100% Berkshire hogs year-round and GMO-free, antibiotic-free, free-range chickens during the summer months. The meat they raise is currently on my "favorites" list here at the Co-op. I particularly enjoy the butterfly pork chops (on the grill, pan fried, or baked) which are full of flavor and firmly textured.
I first met Harvey Gingerich (one of the Harmony Neighbors) in early 2014. Harvey came by the Co-op and started asking questions about the Co-op's pork needs. He was operating an organic goat dairy at the time and had also raised hogs for Niman Farms. He was researching the possibility of creating his own hog operation.
Without the help of computers or Google searches, Harvey set out to research the viability of this venture. Harvey and I had many conversations, met with extension services, and were able to come up with a plan. He soon formed a relationship with Burt's Locker up in Eyota, MN. Burt's has fantastic recipes for uncured pork products and MSG-free sausage.
Harvey set up his operation, starting small – but always looking for ways to grow, and grow he did. I gave Harvey the contact name of the meat buyer for People's Co-op in Rochester, MN, and he took it from there. He reached out to Just Foods in Northfield, MN, Seward, Eastside, Lowry, Linden Hills and Mississippi Market up in the Twin Cities and found that they loved his pork too. Harvey has even found a distributor in the Cities so he doesn't have to deliver the pork himself.
This rapid growth required his organization to grow. So Harvey found farmers that also had a drive to raise a superior pork product. He recruited John O. Bornstreger, Dan J Bornstreger and Freeman Stutzman. Together they formed Harmony Neighbors.
Today Harmony Neighbors are operating 4 farms, all with Harmony addresses and focusing on Berkshire pork and GMO-free chicken. They have a proprietary, all vegetarian feed for the hogs, some of the grains coming from crops they grow themselves and some are from the Mabel Feed Store. They are working to transition to utilizing all GMO-free feed for the hogs and are very close to making it happen. They do not use antibiotics. The pigs are out on pasture when the seasons permit, and they nearly always have access to the outside – except for the delicate weeks when the little piggies are just born and gaining size. Chickens are only raised during the summer months when there is access to pasture and decent weather.
In this age of technology and corporate entitlement, I continue to be impressed with Harvey Gingerich – and now Harmony Neighbors – for his and their ability to grow a business without the use of a cell phone or a computer. Through use of a landline and face to face conversations, Harmony Neighbors continues to grow because of their commitment to their customers and the quality of product they produce. Thus, they are helping to feed our community with quality pork that simply tastes delicious.