From The GM Spring 2013
By David Lester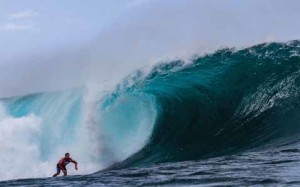 Can you see it? A wave is approaching. It's not a ripple or ebb tide. I'm talking a full-blown breaker comparable to Hawaii's famous, "Pipeline." It's a wave of individuals, families, schools and businesses that want to live simpler, healthier and happier lives.
2012 was a very good year for our Co-op. Our 2012 Annual Report will be mailed out soon to our member/owners and will give more detail about the financial success of our store. Financially speaking, we saw a "wave" of new members and can prove through various metrics that what we are selling is growing. Some highlights include:
• +10.7% sales growth over 2011
• Outperforming our budgeted net income (+126%)
• 319 new member signups (total membership: 3,976)
• Total equity increased by 17.2%
More importantly, this wave takes shape in the form of our community putting more value on creating healthier environments in our schools, workplaces, homes and places of recreation. This is evident in the work of the Blue Zones team, school Wellness Teams, city governments, workplace wellness programs and the incredible outdoor spaces we hike, bike and explore.
Decorah has been selected as an Iowa Blue Zones site. This will give us more resources to make the "healthy choice the easy choice" for residents and visitors to the Decorah area. A community-wide effort is being made to transform the overall health of our community by engaging city leaders, teachers, business people, children, faith leaders and anyone who wants to create a healthier, happier community of people. By making simple changes to our diets, encouraging restaurants to highlight healthier menu options and encouraging businesses to enhance their wellness programs will be just a few things that this project will address.
As one of the nine funding projects across the U.S., the W.K. Kellogg Foundation Food & Community program is funding work for school Wellness teams in the northeast Iowa school systems to make health a priority. From student involvement to curriculum change, these wellness teams want the healthy choice to mean that every day all people in NE Iowa have access to healthy, locally grown foods and abundant opportunities for physical activity and play. Many of the schools in northeast Iowa now have school gardens, walking-school buses and activities to get students and their families involved with better nutrition and more exercise.
Thanks to the Iowa State University Extension office, the Co-op is working with businesses like Rockwell Collins to enhance their workplace wellness programs. The ISU Extension was able to provide funding to start a project that helps provide approximately 40 employees with a weekly CSA share of local meats, dairy and vegetables. This not only benefits the employees, but provides our local vendors with more opportunities to sell and distribute their products.
And, of course, we cannot forget this amazing outdoor playground that we live in. The completion of the bike trail has already attracted many cyclists from all over the upper Midwest to our community. Our bike shops are not only selling more bikes, they are also fixing more bikes that have been dormant for years. More of our customers and staff are using bicycles as their primary mode of transportation. The typical bicycle customer buys in smaller quantities and buys what is fresh in the store that day. It's a great way to get exercise, keep your purchases small and have a tasty meal at the end of the day.
It is interesting for me to watch trends in the grocery industry come and go. One that I do not see going away any time soon is the resurgence of "fresh" departments. In our industry that typically means produce, meat & fish, and deli/cafe operations. At the Co-op, we have been focusing on these departments and developing our classes on basic cooking techniques like our popular "How to Boil Water" class series. Somewhere along the way, many of us got too busy or didn't make cooking a priority. We forgot what our grandmothers taught us about roasting vegetables. We forgot what our grandfathers taught us about butchering a chicken. Those skills of cooking with whole foods are quickly becoming more valued by parents, school lunch programs and local restaurants. Seeing the smile on a young child's face after experiencing the complex flavor of an organic carrot or sugar snap pea is fun to witness and makes our jobs at the Co-op that much more rewarding.
Most grocery stores now carry at least a four-foot section of gluten-free items and restaurants are giving their patrons more gluten-free options on their menus. What our Co-op has been selling for years is more main-stream than ever and that's a really good thing! There are more options for people with dietary restrictions and these consumers want the best information possible. Our commitment to providing the best quality local products and the knowledge and education behind those products is what we will continue to refine and to make sure our staff is trained to answer customer questions. If purchasing a quality, local product is a priority for you, then you will glad to know that almost 22% of our sales in 2012 came from locally-produced goods, which amounted to about $851,150. Our commitment to work with local producers and find new markets for their goods is something our Co-op is constantly working on and will give priority to as we source the products we sell.
Class signups in 2012 were up 42%, and we put more resources into our Education and Outreach programs. We have many offerings and new instructors lined up for our classes in 2013 with an increased focus on alternative diets including vegetarian, raw, gluten and lactose free. There will also be an increased effort to create more educational opportunities for children and low-income households.
It's an exciting time to live, work and play in Northeast Iowa and the staff and I at the Oneota Community Co-op look forward to seeing you in one of our classes or just picking up a few things to make your next meal. To catch this wave you do not need to be an expert surfer, just a willingness to make a few changes in your lifestyle and a willingness to try something new. See you out there.