Co-op Kitchen Classroom- Spatula at the Ready
Co-op Kitchen Classroom- Spatula at the Ready
Since opening its doors in September 2014, the new Co-op Kitchen Classroom – located at 308 West Water Street (next door to the Co-op retail space) – has been host to a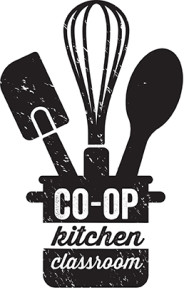 number of new classes, instructors and special events. In addition, we have kicked our previous class offerings up a notch with this beautiful space we now call "home" – or home-plate might be fitting.
The Co-op Kitchen Classroom is equipped with everything you might expect an outfitted home kitchen to have, plus some extras for the consideration of teaching a large group. The space can accommodate
24 individuals with stainless steel work tables, stools, cutting boards, pots, pans, knives, and other basic utensils. In addition to the "teaching island" which features a 5-burner induction cooktop and plenty of workspace, we also have six portable single induction burners – one for each work table.
We also own a Vitamix blender, a juicer, food processor, immersion blender, pressure cookers, water bath canner, Kitchenaid 6 quart mixer, fridge, freezer, and dishwasher.
Double wall ovens anchor the bank of cabinets which store most of the equipment, thereby leaving the space clean and cozy for events, meetings and gatherings that don't involve cooking. But we would love to help you find a way to incorporate cooking into your gathering or event because that is what we are all about.
The Co-op Kitchen Classroom is a learning space, a teaching kitchen. It is also a gathering space. Check out the Co-op website for details about utilizing this space for myour next event, gathering, team building/training, meeting, or present us with an idea you would like to see. In the works mare ideas like kid's birthday parties, group food prep opportunities, private dinner parties, hosted class parties and more. We would love to hear how you would like to use the space and welcome your input. Contact Nate or Ruth at the Co-op to inquire about reserving the space.
Update: 10/15/15 Check out our Co-op Kitchen Classroom page on this website by clicking here.
You can reach us at 563-382-4666 or customerservice@oneotacoop.com.