Bulk Loose Leaf Teas
By: Carl Haakenstad, Bulk Buyer; Nate Furler, Marketing Manager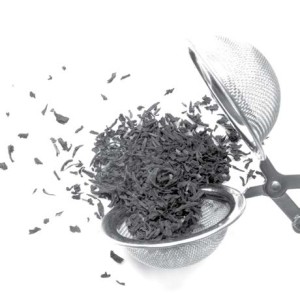 "Bulk teas — also known as loose leaf or whole leaf teas — offer the best flavor and value. Whole tea leaves retain components of Camilla sinensis (tea plant) that are diminished with the chopping, grinding and sifting that prepares tea for tea bags. Loose-leaf teas unfurl while steeping and release their maximum aroma, taste and goodness — giving you a complete tea experience." (www.frontiercoop.com)
We have some exciting additions to the loose leaf tea section of the Bulk department. However, before I talk about what's new, I want to explain just how economical purchasing tea in bulk can be. It can be quite intimidating to look at the pricing that is listed on the bulk loose leaf tea jars. For example, Gunpowder Green Tea is listed as $29.99 per pound, which looks anything but economical. However, let's break it down and see just how much a cup of bulk tea will cost you.
The suggested amount of bulk loose leaf tea used, in general, per 8-ounce tea cup is one teaspoon. Looking specifically at the Frontier (bulk) English Breakfast tea, the price on the jar is listed as $25.59 per pound, or $1.60 per ounce. When measured out and weighed, one teaspoon of this bulk, fair trade, organic loose leaf tea costs $.09 per teaspoon or cup brewed. In figuring out the price per cup of an assortment of bulk loose leaf teas carried here at the Co-op, all of which are organic, I came up with an average expense of $.15 per teaspoon (cup brewed). Boxed, pre-bagged teas on our shelves average $.34 per bag (cup brewed). This is over a 50% savings by purchasing bulk loose leaf tea, instead of the boxed, pre-bagged variety.
In addition to the cost savings, bulk loose leaf tea saves considerably on packaging. Individually wrapped tea bags are a thing of the past with bulk loose leaf. Tea bags in general are no longer necessary, as one can simply use a reusable stainless steel tea infuser which will last indefinitely. For a minimal investment of $2.99, your tea infuser will pay for itself after enough cups of bulk tea to equal ONE box of the pre-bagged variety.
Now, on to what's new! One of our new herbal teas is Warming Crimson Berry. It is just perfect for winter because it combines cranberries, hibiscus, and chili peppers. This combination creates a fruity and tangy cup of tea with just enough spice to warm you on a cold winter evening. We now also feature Hibiscus Flower Petals which can be made into a tea on their own, or used in creating your own herbal tea blend. Hibiscus tea is bright red and has a pleasant, tart fruitiness. Drinking hibiscus tea is believed to have the added benefit of helping lower blood pressure. In multiple clinical trials people with mild to moderate hypertension saw a reduction in their blood pressure, believed to be from drinking hibiscus tea before breakfast. (One study was from USDA's Agricultural Research Service and another was published in the scholarly journal Phytomedicine). We have also added Holy Basil, or Tulsi, to the herbal tea offerings. Holy Basil is a healing herb that has been used for thousands of years in India. It is reputed to be a stress relieving and immunity boosting herb. Finally, raw Dandelion Root has been added to the herbal tea section. Dandelion root has long been used by herbalists for its cleansing properties, especially pertaining to the liver and gallbladder.
We welcome you to try the world of bulk, loose leaf teas. We hope that you find them as pleasing to your palette as we do for both our palette and the planet.