Black Forty Farm, Harmony MN
by Betsy Peirce, Produce Department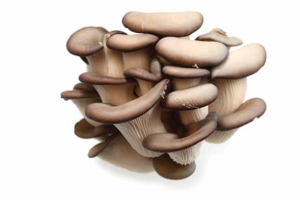 Carolyn Finch (Thompson) grew up in Harmony, MN as one of three children in the Thompson family and the only girl. The Thompson's farmed crops and raised pigs when she was growing up. She had been employed by the family business at various points over the years, and now she is in a different sort of business relationship with them as one of seven partners. The business is Back Forty Farm and they are growing (soon to be certified organic) Oyster Mushrooms on a grand scale.
It all started when Carolyn moved from Decorah, where she was working in the produce department at Oneota Community Food Co-op, to Minneapolis. It was there that she met Fred Finch, her future husband. Fred just happened to be passionate about not only Carolyn, but also growing culinary mushrooms. It had been a pretty serious hobby that he had started in his garage and soon enough he was selling them at the St Paul Farmers Market. Carolyn says that his favorite part about growing mushrooms is teaching others about their cultivation because they are so unique and unlike any of the other common fruits or vegetables like tomatoes or squash.
It just so happened that Carolyn's family, the Thompson's, had some agricultural buildings on their farm that were sitting empty in Harmony MN, and they were discussing what to do with them one night. Fred pitched in with the idea to start a commercial mushroom business. After everyone had a good laugh, they actually started talking seriously about it. Later, they had a brainstorming session and decided that Oyster mushrooms made the most sense to grow because they require the fewest inputs (no manure or compost) of all cultivated mushrooms.
They set up the organizational structure of their business with Fred Finch as CEO and Carolyn doing the marketing. Mother, Roxy, is the finance manager and all the other Thompsons are partners in name (Father Jeff, brothers Paul and Thomas, and sister-in-law Jessica) The next step was funding. They decided to stay local. Rather than get an FDA loan, they applied for a loan, and it was granted, from a local bank in Harmoy. The loan enabled them to renovate the buildings and purchase the equipment needed to get started. The renovations included new walls and concrete floors, and an upgraded HVAC system in one of the empty farm buildings.
The equipment needed for commercial Oyster mushroom production is primarily for the purpose of sterilizing the environment to keep their "spawn" pure and free of contamination from other types of fungus. Back Forty has a HEPA air filtration system that sits as a hood above their work space where they do all their inoculations and an Autoclave that pressure sterilizes each bit of equipment and substrate that the mushroom comes in contact with.
They ordered their first strain of Oyster mushrooms from Penn State University. If all stays according to the plan, they will be able to grow off this one strain for the next several years if they keep up their spore library.
Oyster mushroom spawn (Latin expandere = to spread out) go through six stages of "growing out" on 6 different mediums before they get to the "pinning" stage when they begin to fruit. Each "growing out" takes about ten days on each separate medium. One interesting thing to note is that before the spawn can be transferred to each medium, the medium has to be pressure sterilized in the Autoclave. Below the stages are numbered to give you an accurate portrayal of what it takes to fully grow out mushrooms from spores to full fruit.
1. Strain culture is taken from slants and used to inoculate petri dishes.
2. After approximately 7-10 days, each dish of culture is applied to approximately 8 autoclaved jars of rye grain (FIRST GENERATION grain spawn).
3. After approximately 7-10 days, each jar of rye grain spawn is applied to an autoclaved bag of rye grain (SECOND GENERATION grain spawn).
4. After 7-10 days, each bag of grain spawn is applied to about 10 more autoclaved bags of rye grain (THIRD GENERATION grain spawn).
5. After 7-10 days, the third generation grain spawn is applied to pasteurized rye straw and packed into hanging "garden" bags. Spawn run begins.
6. After 12-14 days when spawn run is complete, the garden bags are moved to the pinning room which is kept around 61 degrees F.
7. After "pinning" for 4-6 days, garden bags are moved out of pinning and into the fruiting area.
8. Fruit appears within 72 hours and needs to be harvested at least twice a day.
9. Mature fruit is gently pulled or twisted from the garden bags (not cut) and placed in packaging to be refrigerated.
10. Gardens will generally fruit for three "flushes," each spaced about a week apart. After all three flushes have been harvested, garden bags are removed from the building and the material is composted for other uses.
Harvesting the mushrooms is a continuous process at Back Forty Farm. They harvest two times a day right now and are producing about 200-300 pounds a week. They are selling out of all their produce weekly and are expecting to ramp up production to a higher level in the fall. Carolyn and Fred split their time between Minneapolis and Harmony. They are currently doing the deliveries and farmers market sales themselves, along with Roxy. They also employ two part time people to help with production. They doubled their expected sales for June and are on track with their business plan for sales in general. They are also now certified organic.
Currently Back forty Farms sells their Oyster mushrooms at the St. Paul Farmers Market and will soon sell them at the St Paul Capital Market (a new one), and The Linden Hills Farmers Market in Minneapolis. They supply several upscale restaurants in Minneapolis who feature their mushrooms on their regular menus. Here in Decorah you can find them at the Winneshiek County Famers Market. Their only retail outlet currently is the Oneota Community Food Co-op. They also supply Oyster mushrooms to Albert's restaurant in the Hotel Winneshiek in downtown Decorah.
Cultivated Oyster mushrooms have a wonderful delicate flavor. The substrate on which they are grown impacts their flavor and thus they taste differently than their wild counterparts which are often described as having a hint of Anise (wild ones grow on dead trees). The cultivated ones are sweeter and nuttier. Oyster mushrooms go well with stir fry as they cook quickly. Throw them in at the end of cooking to preserve their flavor. Of course, one way that mushrooms are best enjoyed is by sautéing them in butter, a no fail option. Below are a few recipes to begin your Oyster mushroom odyssey! Return to articles
Sautéed Oyster Mushrooms 
Gourmet | March 2009 by Lillian Chou This quick preparation really showcases the gentle flavor of oyster mushrooms. The mild dish, brightened with a small amount of cider vinegar, helps balance the forceful spices of the rest of the meal. Yield: Makes 8 (as part of a korean meal) servings Active Time: 15 min Total Time: 1 hr
Ingredients:
1 tablespoon vegetable oil
1 pound small oyster mushrooms (any large ones cut into 1-inch pieces), stems trimmed
2 teaspoons cider vinegar
Pinch of salt to taste
Directions: Heat oil in a large nonstick skillet over medium-high heat until hot. Sauté mushrooms with 1/2 teaspoon salt until golden, about 8 minutes. Add vinegar and sauté until evaporated, about 1 minute. Season with salt, then transfer to a plate to cool. Serve at room temperature. Cooks' note: Mushrooms can be made 4 hours ahead and kept at room temperature. Read More:http://www.epicurious.com/recipes/food/printerfriendly/Sauteed-Oyster-Mushrooms-351872#ixzz21qRi0gB1 
Fingerling Potatoes with Oyster Mushrooms  
Bon Appétit | June 2006 Jeanne Thiel Kelley Yield: Makes 6 servings
Ingredients:
7 tablespoons extra-virgin olive oil, divided
2 pounds small yellow fingerling potatoes, unpeeled, halved lengthwise
4 tablespoons minced shallots, divided
1 garlic clove, pressed
1 pound large fresh oyster mushrooms, torn into 1-inch-wide strips
1 tablespoon chopped fresh Italian parsley
Salt to taste
Directions:
Position 1 rack in top third and 1 rack in bottom third of oven and preheat to 450°F. Brush 2 large rimmed baking sheets with 1 tablespoon olive oil each. Place potatoes on 1 prepared sheet; drizzle 3 tablespoons olive oil over and toss to coat. Spread potatoes in single layer; sprinkle with salt and pepper. Place potatoes on top rack of oven and roast 10 minutes. Sprinkle 2 tablespoons shallots and garlic over. Transfer potatoes to bottom rack of oven and continue to roast until tender and golden brown, stirring occasionally, about 10 minutes longer. Remove from oven.
Meanwhile, toss mushrooms on second prepared baking sheet with remaining 2 tablespoons olive oil; sprinkle with salt and pepper. Spread in single layer and roast mushrooms on top rack of oven until golden brown, stirring occasionally, about 15 minutes.
Add mushrooms to potatoes; stir to combine. do ahead Can be made 2 hours ahead. Let stand at room temperature. Rewarm in 450°F oven until heated through, about 5 minutes, before continuing.
Add parsley to potato-mushroom mixture and toss; season to taste with salt and pepper and serve.
Read More http://www.epicurious.com/recipes/food/printerfriendly/Fingerling-Potatoes-with-Oyster-Mushrooms-235160#ixzz21qSUcDXH