An Option to Increase Renewable Power at the Co-op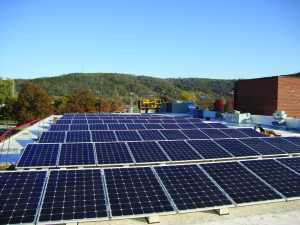 As part of Oneota Co-op's most recent long-term strategic plan, your Board of Directors is committed to reducing the Co-op's carbon footprint.  By implementing several energy efficiency programs and by installing a 20kw photo-voltaic solar array on our rooftop we took significant steps toward our reduction goal.  The result is that our electricity consumption has gone down by over 7% per year since 2013.
By taking advantage of a generous gift ($16,000) from George and Joann Hagen, we were able to substantially reduce our cash investment in the photo-voltaic system.  Federal and state tax incentives also contributed to lowering the final cost.
Now that we've "picked the low-hanging fruit" on carbon footprint reduction, the Co-op is looking to make further cuts in fossil fuel consumption. Once again we're turning to our member/owners for help. The Co-op has received a quote for an additional 9.35kw solar array that could be installed on our main roof – interspersed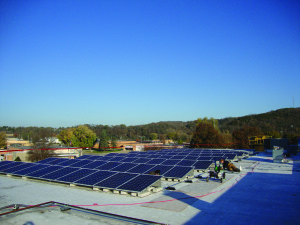 with our existing panels.  The project cost of $29,500 will be offset by up to $14,000 in federal and state tax credits – so the Board is hoping that the membership will step up with gifts to further drive down the cost and make it a feasible project in the next year.  What do you think Co-op member/owners?  If you are interested in contributing to a special fund earmarked to support this plan, please contact any board member, or GM David Lester.
Thank you to all our member/owners for believing in the important work of the Co-op.