$20,000+ to Local Food Pantries Since 2009


By: Nate Furler, Marketing and Outreach Manager
Since its inception in 2009, Taste of the Holidays at the Co-op has raised over $20,000 to support the local food pantries of Decorah Lutheran Church, First Lutheran Church, Greater Area Pantry, and NE Iowa Community Action.
Anyone in attendance at the event can attest to the delicious nature of it.  Planning for the Co-op begins in August and September with the formulation of the menu and extensive ingredient list needed for the event.  Once this list is assembled, our various managers and buyers contact their local, regional and national vendors to see about ingredient donations and purchase specifically for the event.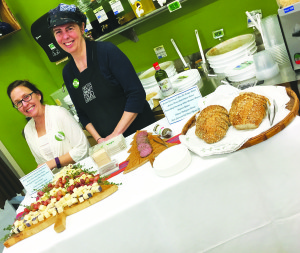 Taste of the Holidays starts with an appetizer course – including wine and sparkling beverage samples.  This year we were fortunate to feature donations from Sartori Cheese (Rosemary Olive Oil Asiago and Merlot Bellevitano), Vern's Cheese (Maple Leaf Cranberry Cheddar), and (the very talked about hit) Tribeca Multigrain Bread provided courtesy of Classic Provisions.
In addition to donations for the appetizer course, we were fortunate to benefit from the generous support of many other vendors for the event, including Ferndale Market (turkey), Beeler's (ham), Albert's Organics (potatoes, yams, cranberries), Co-op Partners Warehouse (potatoes, salad greens, carrots, bell peppers), SnoPac Foods (green beans), Peake Orchards (apples), River Root Farm (carrots), Patchwork Green Farm (onions), GROWN Locally (onions), Waving Grains Bakery (fresh rolls), and United Natural Foods, Inc. (heavy cream and butter).  Many of these companies and organizations have supported the event through their ingredient donations multiple years. We could not have done this without their efforts as well.
Decorah Bank & Trust has also supported the event for several years. We were grateful to once again add their generous $500 cash donation to the grand total for 2015 – bringing the total cash donation to the food pantries to $3,600.
It is with a bit of sadness and a lot of excitement that I let you know 2015 was the last year for the "Taste of the Holidays" event.  However, though the event may be going away, the support of the local food pantries through your donations continues.  Community support of efforts such as the food pantries are near and dear to us at the Co-op and among our member/owners.  Therefore, we will be starting a "round-up at the register" ongoing campaign that allows for the donation of funds to this and other community organizations throughout the year.  Stay tuned for more information regarding "round-up at the registers" in the coming year.  Again, thank you for your continued support of the Co-op and the community of Decorah and the surrounding area.