Putting the OWN in Locally GROWN


By: David Lester, General Manager
Locally grown and locally owned. These are two things we take very seriously at the Oneota Community Co-op (OCC). OCC is an excellent example of how a locally owned business can provide opportunities for local producers and grow our local economy stronger than other chain retailers.
We have talked about this subject in past issues of The Scoop and it is a subject that we will continue to talk about as natural, organic and local grocery items become more mainstream. Many studies, like the one conducted by the private research firm, Civic Economics, have continually shown that on average, about 48% of each purchase at a local independent business was recirculated locally. Less than 14% of each purchase at a chain store remains in the local economy. And, only 1% stays in our local community when you make an online purchase.(1)
At OCC, we've calculated our local economic return at about 46% of total sales. That means that approximately $2.4 million will be staying in our 100-mile local economic circle in 2016. Our corporate headquarters is right here between the bluffs in Winneshiek County. We do not outsource our HR, payroll or marketing efforts. We have people in those positions making decisions here in Decorah and making a living for themselves and their families. Bigger chain stores typically have a central office for these services, located in a larger city, hundreds of miles away from where those products were purchased. By having 100% of our payroll located within 100 miles of Decorah, Iowa, naturally there will be more economic robustness with that money staying local. According to the American Independent Business Alliance, when a consumer buys a locally produced product, the local taxes generated by that sale are almost three times greater than purchasing a national brand from a chain store and the figure is even higher when compared to making an online purchase. At our store, when factoring in the additional benefit of a customer buying a locally produced head of lettuce from us, the impact to the overall community can only be greater.
In Decorah, we are fortunate to have many independently owned stores selling books, clothes, shoes, other items and services that improve our local economy. So why do residents leave Decorah or go online to purchase these items? I think the answer is simple: We're not selling them what they want. I've never been a fan of the local business that says, "you should shop with us no matter what because it is the right thing to do." Online retailers and chain stores are really good marketers and are really good at creating products that many people want. Independent businesses can sometime lose the focus on this very important piece of running a business. At OCC, we try our best to get things off the shelf that aren't selling, to keep things that are selling well stocked, and to listen to customers who have ideas for things they want to buy. If a customer asks us to consider carrying a particular product that fits our mission because they have to drive 60 miles to get it, then we'd better listen. Otherwise, they will drive those 60 miles to get this item or just click the mouse a few times and have what they want delivered to their doorstep the next day. It's pretty simple. Independents have to become better retailers.
Our managers and buyers have been working really hard this last year to offer our member/owners and customers better deals. We have been able to benefit from the buying power of the National Cooperative Grocers (NCG) and passing on these increasingly great deals to our customers. In addition, we have been negotiating with many of our local producers to offer their products throughout the year during our Weekly Deals flyer items. We think better pricing and moving more of these local products is a win-win for everyone involved.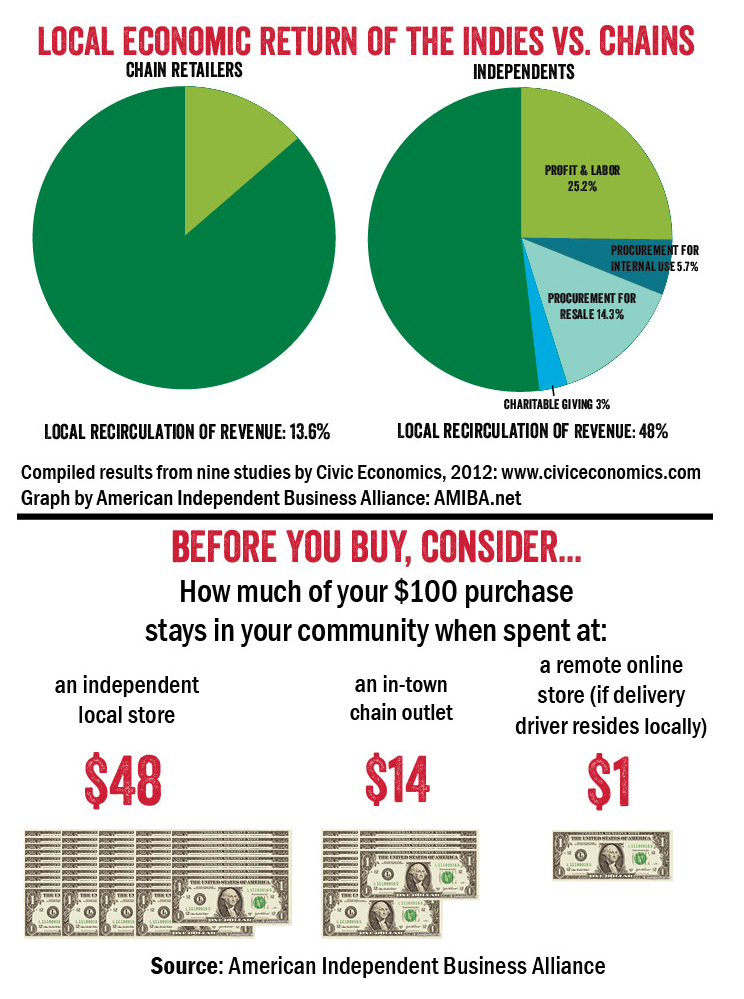 But, we have to be paying attention to what is happening nationally in the grocery world, which is increasingly fast-paced and more convenience-focused. Families are struggling to make ends meet and are working harder and longer hours. At the Co-op, we offer many classes focused on feeding your time-crunched family, but many can't even find the time to grocery shop or cook at home on a daily basis. Restaurants continue to see massive sales growth and grocery store growth continues to be stagnant. It would be in our best interest at the Co-op to pay attention to this movement and adjust to it in ways that still meet our mission.
In the next year our customers will see more meal solutions, a wider offering of grab-and-go deli items and fresh items ready to cook. We believe the grocery shopping experience can be a powerful one and a way to connect with how your food was sourced and those involved in growing it. Connecting with your local community through food is a great way to learn new cooking techniques and try new flavors. But that isn't everyone's goal in the grocery aisle. Some shoppers would love it if we had a Cloak of Invisibility available at the door, do their shopping, and get home. Our customers have different needs and this diversity makes us stronger.
Independents have a big responsibility and opportunity to greatly improve our communities through local purchasing and offering products that customers want. We want to thank our 80+ local producers and you, the customer, for contributing to a more vibrant community in 2016 and we look forward to build on this success in 2017 and beyond. Happy New Year!
(1) Civic Economics conducted a study within several communities that compared the economic impact of consumers buying from independent, locally owned retailers with buying from chain stores. Their results can be found at: http://www.civiceconomics.com/retail.html