La Riojana Cooperative of Argentina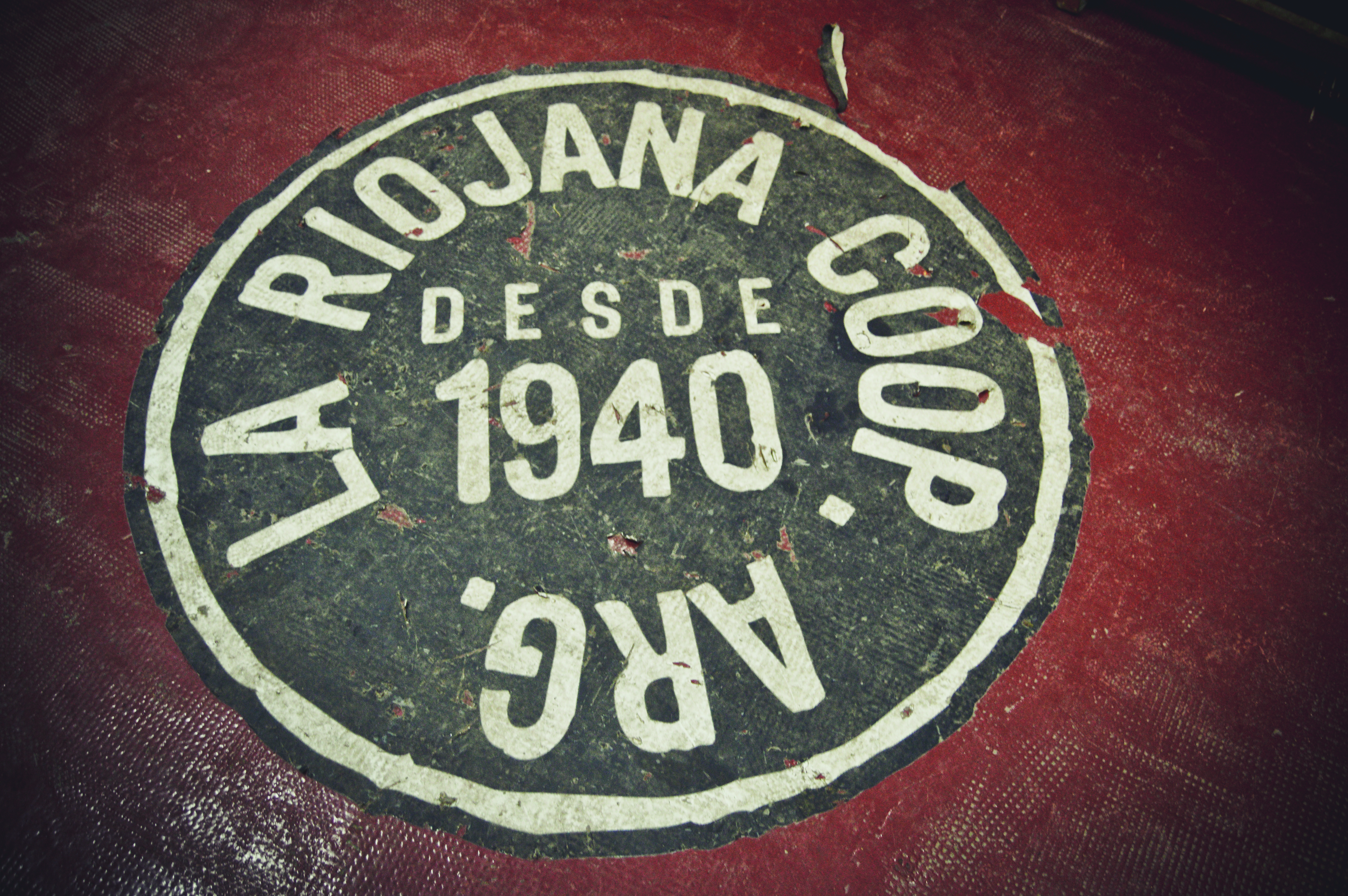 Extending back through four generations, to the 1940s, La Riojana is one of the largest cooperative wineries in Argentina. Many of the original wine growers in this cooperative were immigrants from Italy to Argentina.
La Riojana started out as a small bodega, buying in grapes to turn to wine. They slowly grew as different families made La Riojana province of Argentina their home. These families started planting their own vines, with hundreds of families following in their footsteps. Working together and sharing their grapes, these families built what has become the La Riojana cooperative known today.
The success of the La Riojana cooperative lies in the fact every one of their members is as important as the other, regardless of size or how long they have been part of the winery. Every member and every grower gets an equal vote in deciding what key steps and decisions the cooperative takes. Many of their 500 plus growers can trace their families back through four generations of working as part of the La Riojana cooperative.
Each grower that makes up the La Riojana family has its own unique story to tell. But the majority, up to 80%, are small growers owning no more than three hectares of land. La Riojana cooperative has a workforce of over 250 people, the vast majority of whom work at La Riojana's main winery in Chilecito and live either in Chilecito itself or in villages nearby.
The Famatina Valley is nothing short of a viticultural paradise, ideal for growing grapes capable of thriving in what can be harsh conditions with summer temperatures topping 45 degrees Celcius (113 degrees Fahrenheit) and rainfall of only 180 mm (4.6 inches) per year. The grapes enjoy both the benefit of brilliant sunshine during long hot days and then the comfort of cold nights. This is the ideal combination for growing superb healthy fruit, bringing depth and colour to the red wines and aroma and flavor to the whites.
The hot, sunny conditions are also ideal for organic wine growing vital to La Riojana's winemaking philosophy as it means fewer insects, and pests that can affect the grape. Sheep are also used in the vineyards to keep on top of vegetation and any pests. Plus, their manure helps fertilize the vines. What's more, the Famatina valley is surrounded by the Andes, Famatina and El Velazco mountains, which run northwest to south east, providing good ventilation and protection for the vines.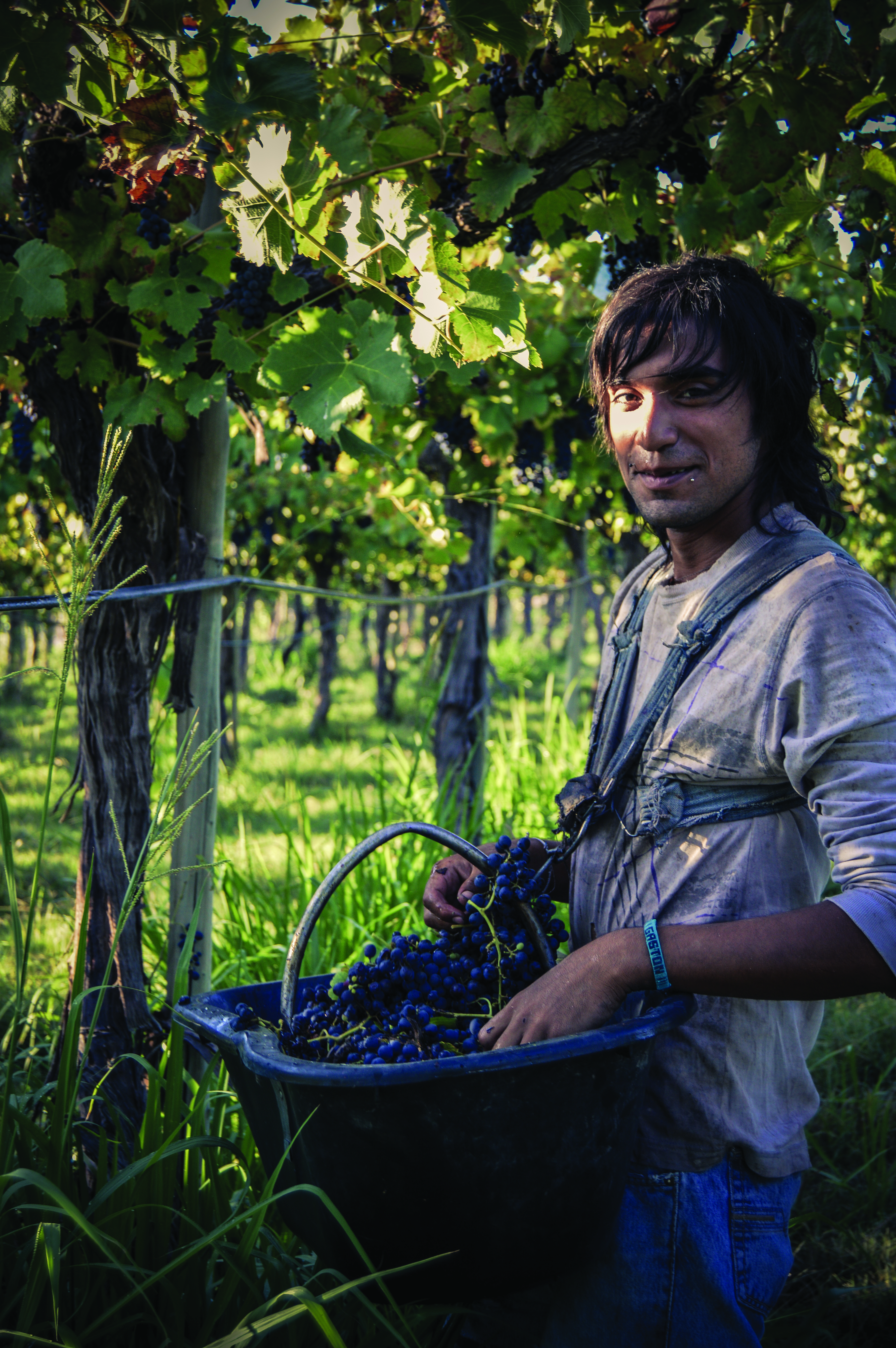 Ever since establishing its winery back in the 1940s, La Riojana has been about producing wine in an ethical, sustainable and environmentally friendly fashion. As part of that ethos, switching to organic wine production was a natural step very much in keep with La Riojana's values. Currently there are 345 hectares of vineyards dedicated to organic production, which represents around 12% of the winery's total harvests. By 2025, they expect to see La Riojana's production be 100% certified organic. This 100% organic certification is being largely supported by a new and ambitious Fairtrade project, which will fund the organic certification of 100% of their small-scale producers, at no cost to them.
The number of members and growers in the La Riojana cooperative means they are able to make wine from one of the widest selection of grapes available in Argentina. Torrontes Riojano account for 40% of the total grapes grown across the cooperative. La Riojana is Argentina's largest producer of Torrontes, the country's signature white grape variety. On average they produce around 20 million litres of Torrontes Riojano wine, in nine different styles, ranging from dry to sweet to sparkling, right through to grappa. La Riojana currently produces a wide range of certified organic grapes, including Torrontes Riojana, Bonarda, Barbera, Cabernet Sauvignon, Chardonnay, Syrah, Merlot, Aspirant Bouchet, Sauvignon Blanc, Moscatel, Buonamico, and Malbec.
The La Rioja climate and wine growing conditions are particularly well suited to Torrontes and La Riojana has built a reputation for producing wines with distinctive, fresh, fruity, aromatic and friendly character.
La Riojana's team of seven winemakers is led by Dr. Rodolfo Griguol, who has not only worked with the winery since 1984, but grew up on the cooperative as his father was one of the original members, becoming general manager in 1940.
"I have spent my life in this cooperative, right from playing in these yards as a child, to taking the role of head of winemaking over 30 years ago," says Dr. Griguol.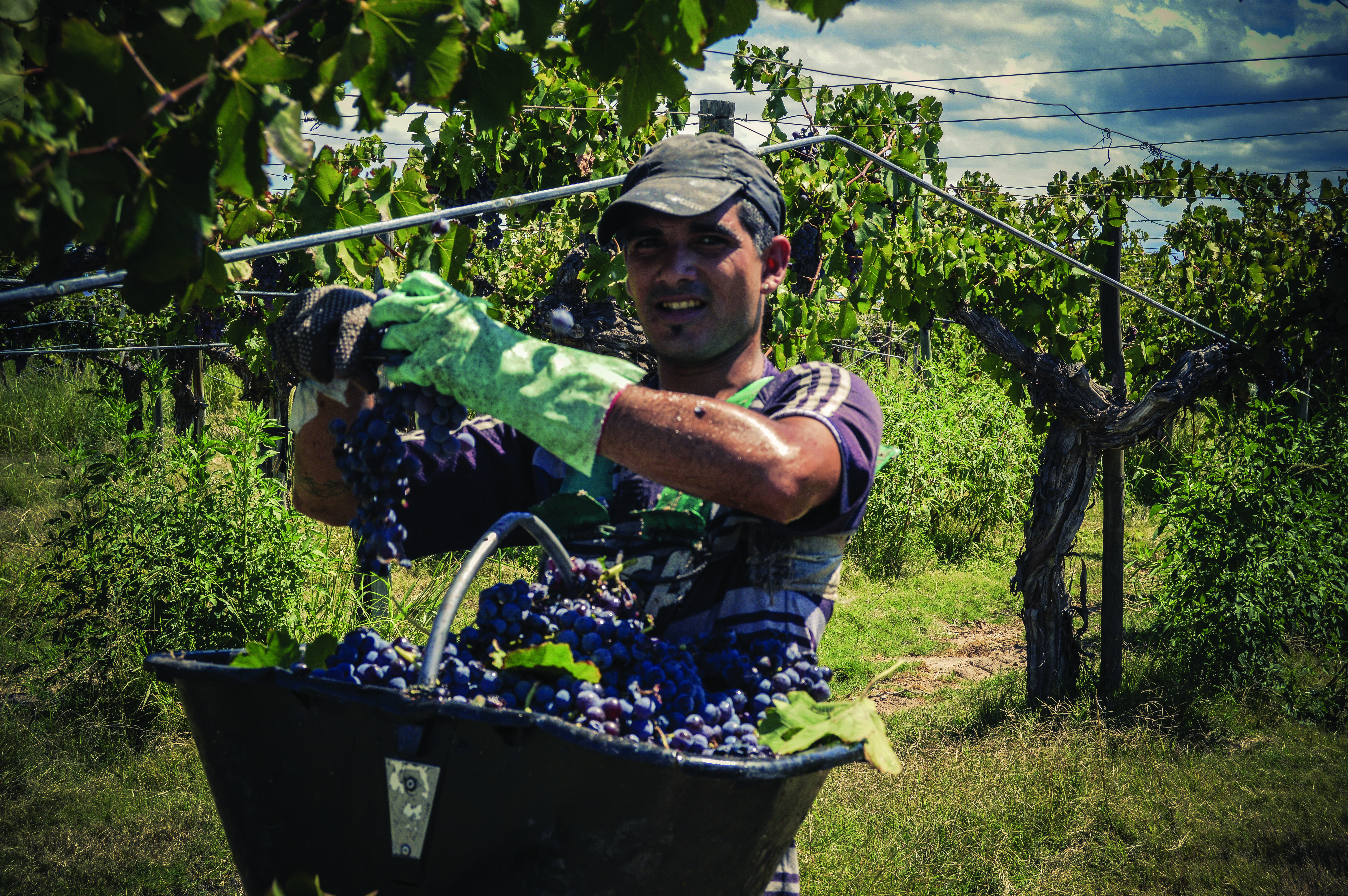 Rodolfo has gone on to become one of Argentina's most significant winemaking figures. One of his key achievements was to develop an ecotopic yeast for the production of Torrontes Riojano wine. His winemaking philosophy is to produce wines with great varietal expression from the best quality grapes.
By being a member of La Riojana cooperative, not only are growers able to vote on how the Fairtrade Premium is invested at the annual assembly, they are guaranteed a range of services and support. These include:
– The re-assurance they will receive a price for their grapes that is fair and higher than the average market price.
– Access to financial support and special credit terms and loans.
– Free technical assistance in their vineyard from the cooperative's agricultural team.
– Collective hail insurance from a central fund that compensates members who suffer from loss of production as a result of hail.
– The fair distribution of profits amongst members to help reinvest in items such as new machinery to help improve production.
– Cheaper central purchasing rates for products such as diesel and fertilizer.
La Riojana Cooperative is the largest producer of certified Fairtrade wine in the world, and was Argentina's first winery to be Fairtrade certified in 2006. La Riojana remains strongly committed to operating in a way that is fair and offers an equal way of doing business for their members These values are closely aligned to those of the Fairtrade movement and they feel proud that they were one of the first wineries to be certified Fairtrade in the world.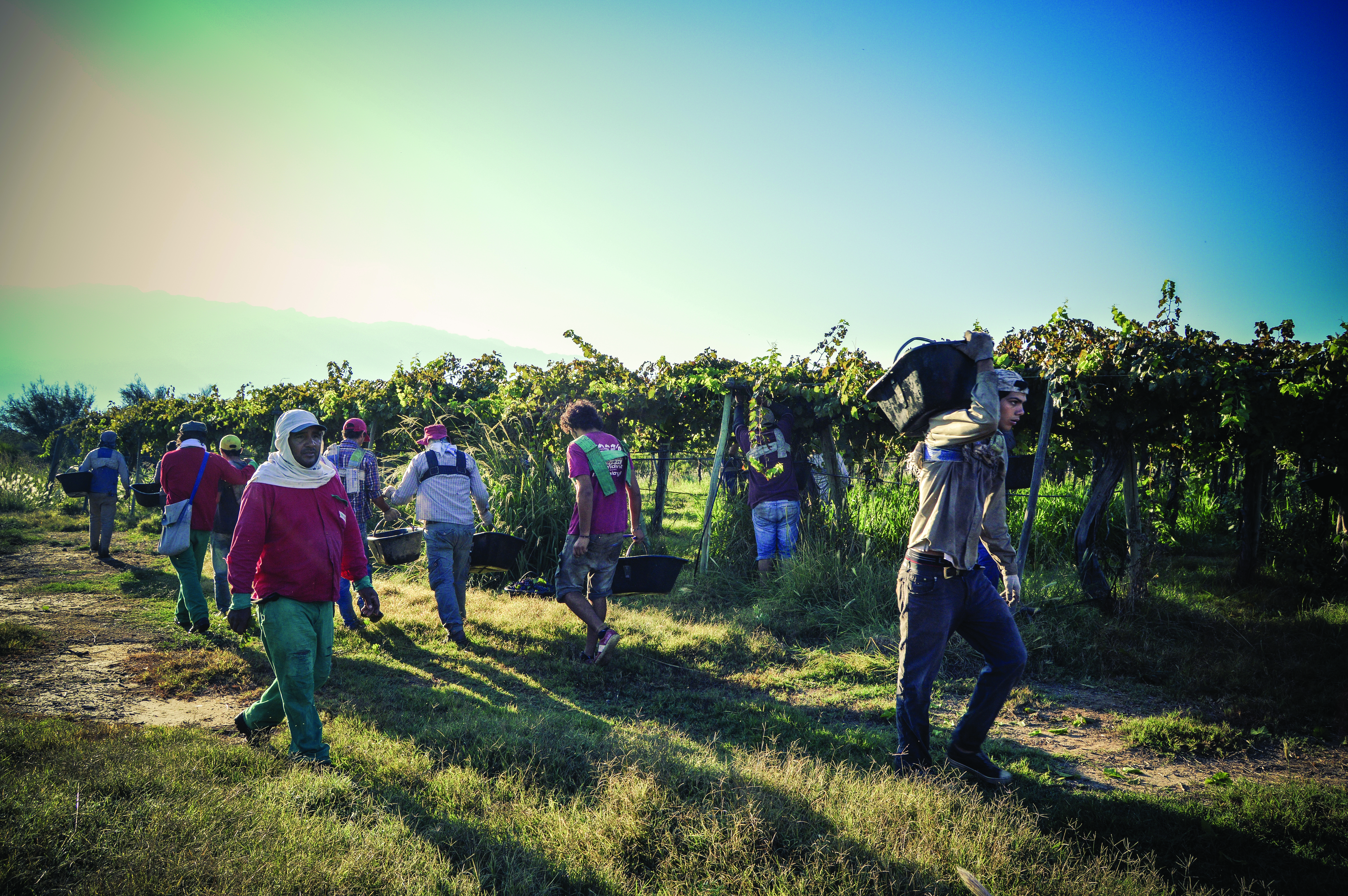 The Fairtrade Premium is benefiting many of their growers, workers and their families, and is making a real difference to their lives.
"Our Fairtrade certification is very important to us primarily because the principles followed by Fairtrade are similar to those followed by our cooperative. The certification has enables us to achieve social goals, which have greatly benefitted the community, our workers and members. The fact that we are Fairtrade and we have good quality wines has also allowed us to win over new markets and therefore increase in our exports," says Mario Gonzalez, president, La Riojana cooperative.
Look for La Riojana wines in the Oneata Co-op wine section. Featuring several varieties for just $8.99/bottle.
Photos & article courtesy of www.lariojanawines.com.