Holistic Skin Care
by: Gretchen Fox Schempp, Wellness Manager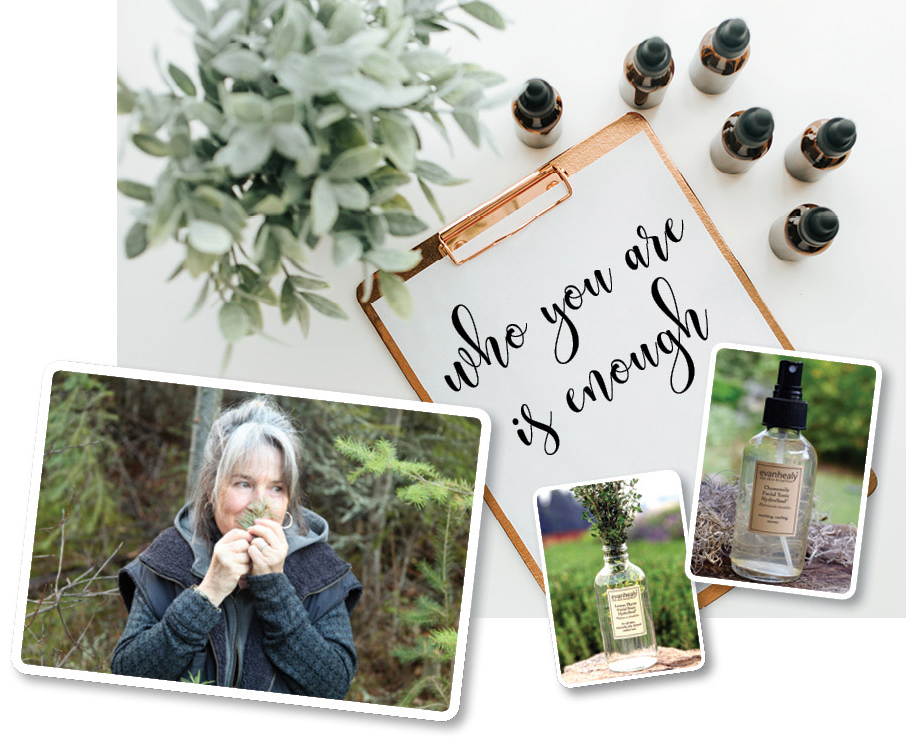 When I began my career with the Oneota Co-op a dozen years ago, I was introduced to the divine facial care products by Evan Healy. I've been using them ever since and have had the pleasure and privilege to train with Evan on various occasions. Most recently I was treated to a facial and massage with one of her own trained aestheticians while I was in Anaheim at Expo West last spring. Even in this indulgent special treatment I was able to learn more about my own skin, general skin care and how managing stress may be one vital component to skin health.
Evan spent 6 years in the fashion industry before she decided that she needed a change and moved to San Diego to pursue a new career in personal care. Her focus right out of the gate was ingredients, valuing organic over chemicals and synthetics, and including in her formulations flower essences to enhance the emotional state of the skin. In 1986 she trained as an aesthetician and has continued post graduate studies in alternative healing modalities in France, Germany, England and India. Learning to trust her intuition and respecting the rhythms of nature, Evan grew in her private practice. More and more she discovered how little the skin actually needed to maintain health and how amazingly it responded to simple care. Hence one of her branded statements "less is more".
Evan's skin care protocol is simple and gears towards nurturing the skin rather than fighting it. One of the first items in her protocol seemed counterintuitive to even myself when I heard it. Oil. Put oil on your face. What? This goes against everything we learned as teenagers when acne and oily skin were something to assuage with all vengeance. Our skin contains oil and water glands that are a key component to our immune system: the acid mantle or pH balance. Our skin is home to an immune-enhancing
Cleansing
Gentle is best. Evan offers three cleansers in her line: Blue Lavender Cleansing Milk, Rose Cleansing Milk and Tea Tree Cleanser. I am mostly a fan of the cleansing milks as they are a gentle approach to cleansing with kaolin clay in the formulation for purifying the skin. If you must have a slightly foamy, more traditional soap-like cleanser, or have troubled acne-prone skin, the Tea Tree Gel Cleanser is a gentle alternative to some of the harsher tea tree cleansers on the market. We don't carry this one on our shelf but we are always happy to special order it for interested parties. With that being said, I feel like the Blue Lavender Milk is a great choice for troubled skin too, as it has calming chamomile and lavender in its formulation to combat redness and irritation.
Cleanse in the morning, always. Your skin detoxifies while you are sleeping.
Toning
Oil and water. Don't be afraid. Like I said earlier, your skin is made up of oil and water. Give it what it wants. What kind of oil though? Not just any oil is good for the face. Cold pressed and organic are key. Argan and Rosehip oils have been gaining popularity as wonderful skin care oils for the past 10 years or so. Evan's been using these all along. Not only sourcing organic and high quality, but also working with women's cooperatives in Morocco and Ghana supporting sandalwood reforestation. In addition, she's supporting small family farms deeply connected to the land in Washington State, France and South Africa.
Rosehip oil is rich in natural pro-Vitamin A and EFA's (essential fatty acids). This is used by indigenous people in the Chilean Andes to treat burned and damaged skin.
Argan oil is rich in tocopherols, squalene and saponins. It works to soften the skin and to reduce the appearance of fine lines and wrinkles. Evan's Argan formulation, Argan Intensive Serum, includes sandalwood and frankincense oils to additionally support the minimization of brown spots.


The combination of oil and water is the second step in Evan's skin care line. The oil and water toning step comes in the form of your oil of choice and a hydrosol. Hydrosol or Hydrosoul, as Evan has coined hers, are highly therapeutic waters that are normally a by-product of essential oil distillation. Evan's are never distilled for the essential oil but for the sole (soul) purpose of becoming a handcrafted HydroSoul.
The combination of one pump of your choice oil and about 6 pumps of your choice hydrosoul in the palm of your hand is the perfect combination for toning, nurturing and moisturizing your skin. I first pump the oil in my hand, prime my face with a mist of the hydrosoul, add the pumps of hydrosoul to the oil, rub my hands gently together and pat the emulsion on my face. I will gently massage my face across my nose and eye sockets with my fingertips to soothe my sinuses and increase blood flow. During my facial they took this step further and used a warm damp cloth on my face letting it sit so the oil could really soak in. This was highly relaxing and a nice way to relieve stress. Afterwards spritz a few more pumps of hydrosol on the face and you are toned!
Many days this is enough for my skin and I skip the moisturizing step altogether. If you need extra moisture or want to protect your skin from the elements I would suggest a moisturizer.
Moisture
There are two main moisturizers in the line Blue Chamomile and Rose Vetiver. Blue Chamomile is geared towards sensitive or inflamed, irritated skin. The Rose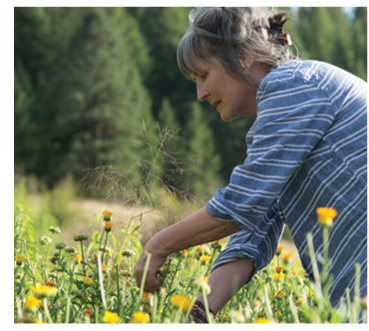 Vetiver is designed for mature, sun damaged skin. Fortified with carrot seed, rose geranium, clary sage and vetiver oils, it is both nourishing and balancing. That being said, if you despise the scent of rose geranium or blue chamomile, go with your nose. As with all components of this line, if it doesn't smell good to you it's not going to make you feel good. If you emotionally don't feel good about it, your skin will know!
There is also the Whipped Shea Butter that can be used for deep moisturizing and/or a barrier moisturizer for extreme weather conditions. I like to use this one in winter when I am out in the elements to protect my face from the cold and wind. Another of my favorite uses of the the Whipped Shea is to mix with Green Clay and apply before a shower for a deeply moisturizing and detoxifying experience. Just rinse after letting soak in while you shower.
Special Treatments
Clay masks are one of the special treatments in the Evan Healy line. Special treatments should not necessarily be done on a daily basis, but on a weekly or as needed basis. Evan's Green Tea Clay is a deeply detoxifying clay mask. This is a good mask to use for disrupted skin, breakouts or prior to toxic exposure. The French Rose Clay is a gentler and smoothing clay mask. They both come as a powder that you mix yourself with a bit of water. You may add a few pumps of facial oil to smooth out the clay mask as an added treat. Apply with fingertips or a mask brush and let dry. To lengthen process and treat the skin more deeply, spritz Hydrosoul of your choice on the mask and let dry again. Rinse with warm water and tone, using extra Hydrosoul to restore moisture and balance. Don't be alarmed if you find yourself with an extra rosy glow after a mask. The clay is highly detoxifying and will bring blood to the surface briefly, thereby increasing circulation.
There are many other delightful and delicious items in the Evan Healy line.
The Wild Carrot Nourishing Eye Balm is packaged in a tube for easy application. Daily application tones, nourishes, brightens, smooths and protects the delicate skin around the eyes.
The Sea Algae Serum is a silky sheer antioxidant firming treatment that can help visibly revitalize skin damage caused by sun, pollutants and aging.
The Sheer Tint Sun Stick SPF 30 is Evan's long awaited supreme solar protection for all skin.
The Whipped Shea Butter for Lips has got to be my favorite lip balm EVER. This gourmet lip balm is the ultimate protection for lips. I find that it lasts long, doesn't need to be reapplied too often and doesn't even melt in my car during the summer!
And lastly, the Blue Cactus Beauty Elixir is a cooling and nourishing antioxidant rich desert inspired oil for soothing, calming, moisturizing and illuminating the skin, rich in EFA's and Vitamin E.
You will find more information on other Evan Healy items in her pamphlet (pick one up in the store) or on her website www.evanhealy.com. We are always happy to special order items you can't find on our shelves.
Stop by, I'm always happy to chat skin care in the aisles!

(photos do not represent actual size)