Grimm Family Farm
By: Carl Haakenstad, Bulk Buyer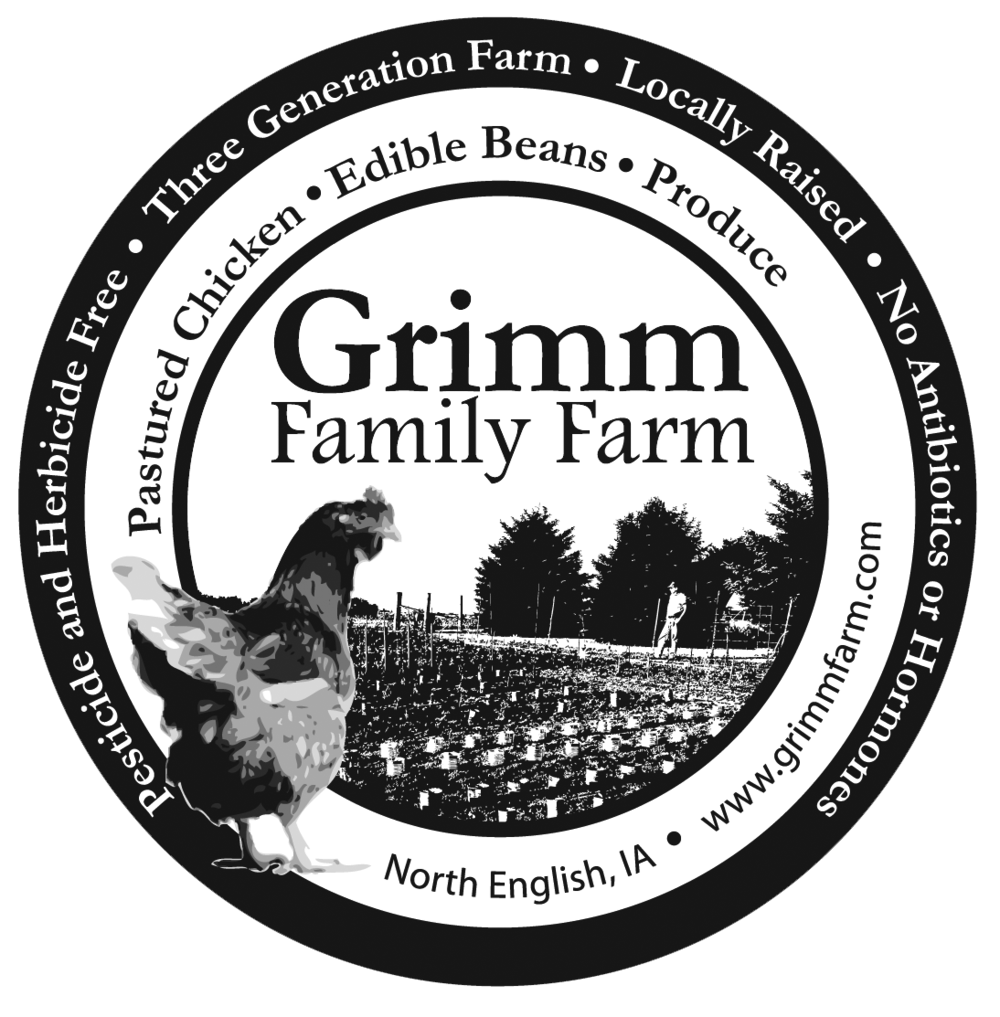 You may have noticed that there are a lot of "Minnesota Grown" signs in the Bulk department at Oneota. But, have you noticed that there is only one Iowa Grown sign? The one current Iowa Grown sign is on the black beans. Soon there will be two (doubled, woohoo!) when we are able to bring in pinto beans from the Grimm Family Farm, located southwest of Iowa City in North English, Iowa.
Grimm Family Farm is a true family operation with Jason Grimm, the youngest farmer, working alongside his parents and grandparents. Grimm Family Farm raises vegetables, dry beans, pastured poultry, hay, corn, and oats for a truly diverse mix of agricultural products. Their website defines their mission as:
Grimm Family Farm strives to provide fresh, healthy, locally grown meat, produce, dry beans and vegetables to our local and regional community from our family run farm. Our animals are raised on pasture with feed from crops grown on our farm or other local farmers' fields. All our garden and field crops are grown with sustainable practices, including mechanical weed cultivation, crop rotations, and use of cover crops.
With so much of Iowa's crop acres dedicated to corn and soybeans which are not destined for human consumption, it is a wonderful opportunity to sell a field crop that IS meant to be eaten by people.
In another article on the Grimm Family Farm I read that Jason uses the same fanning mill for winnowing his dry beans that his Grandpa used for winnowing wheat in the 1940s (winnowing means separating the wheat from the chaff or the dry beans from the pod). The original screens for running beans through the old fanning mill were in perfect condition because they had never been used. A great example of taking from the old and the new to create a sustainable family farm.
Get out your crockpot or fire up the stove and try some black or pinto beans from Grimm Family Farm today. Beans are a healthy food that are low in fat and high in protein and fiber. Just remember to pre-soak them to make them easier to cook (also keeps you less flatulent). The basic cooking directions for dry beans are as follows:
1. Spread beans out on a baking sheet and pick through for any rocks or foreign material.
2. Place beans in a large pot or bowl and cover with water three inches above the contents. Soak for up to 8 hours.
3. Drain soaking water and cover beans with fresh water again three inches above the contents.
4. Bring beans to boil, lower heat to simmer, and cook for 1 ½ to 2 hours.
Pretty, easy right? Plus, in the winter it feels great to have something simmering on your stove for two hours because it will heat up the kitchen and moisten the dry air. If you feel like trying something bigger with your beans, try out this recipe with either dry pinto or black beans. Also, this is a great basic recipe but many other spices can be added (cumin, smoked paprika) and some commentors said to saute the onion and bacon before adding. Try it for yourself and see what you think.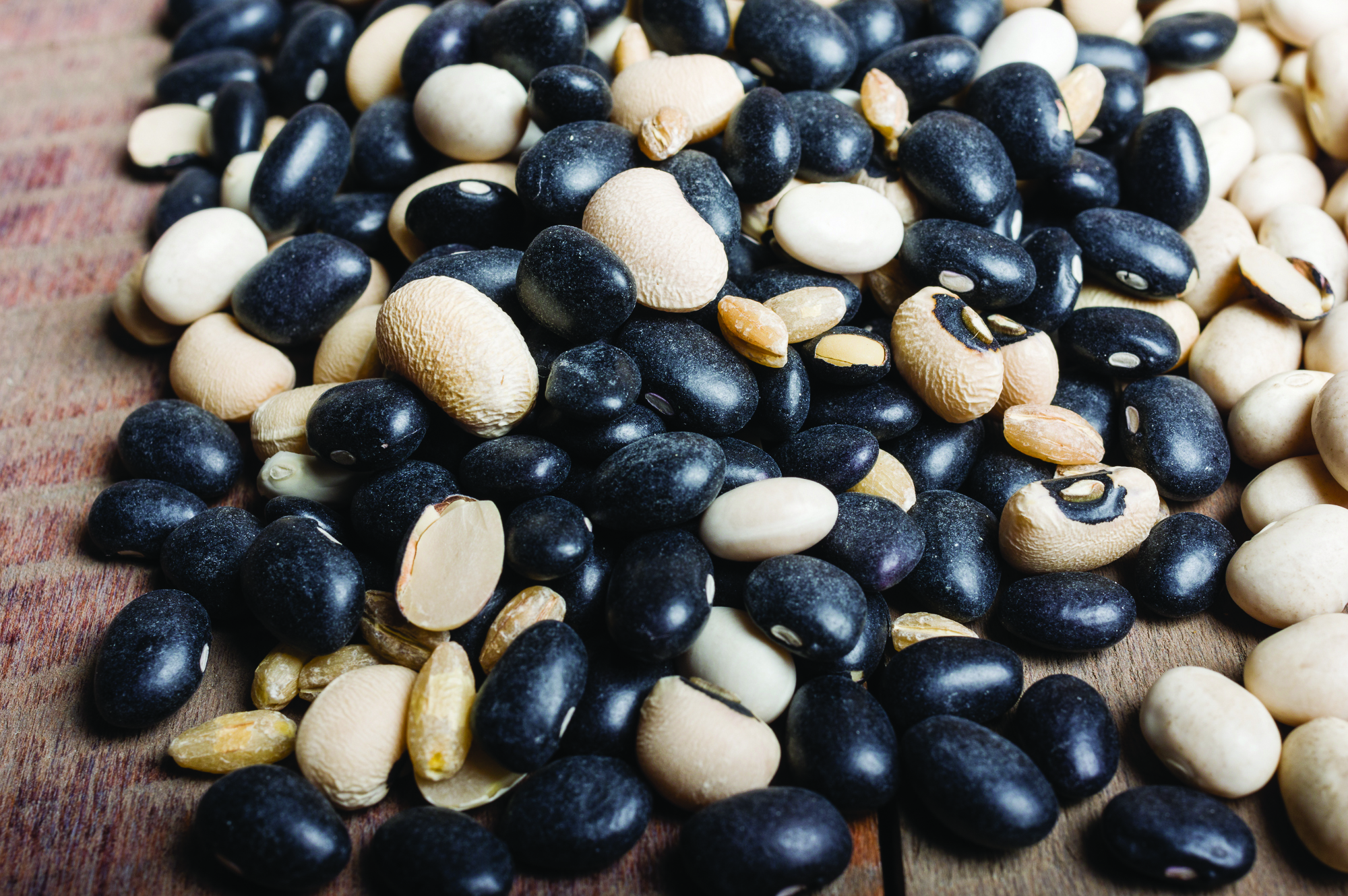 Simple Pinto Beans

1 pound pinto beans
1 small onion, halved
1 bay leaf
¾ pound slab bacon
1 tablespoon kosher salt
1 tablespoon paprika
¼ teaspoon cayenne
PREPARATION
Pick over the beans for small rocks or debris. Rinse well, then cover with cold water and soak for 6 hours or overnight.
Transfer beans to a soup pot and add water to cover by 1 inch. Add onion, bay leaf and bacon and bring to a boil. Reduce heat to a bare simmer, partly cover pot with lid, and cook for 1 hour, stirring occasionally.
Stir in salt, paprika and cayenne, then continue simmering until beans are soft and creamy and the broth is well seasoned and lightly thickened, about 1 hour more. Remove bacon and chop roughly, then return to pot. Dish may be prepared up to 2 days ahead.
Recipe from http://cooking.nytimes.com/recipes/1017495-simple-pinto-beans