Kitchen Classroom Use and Rental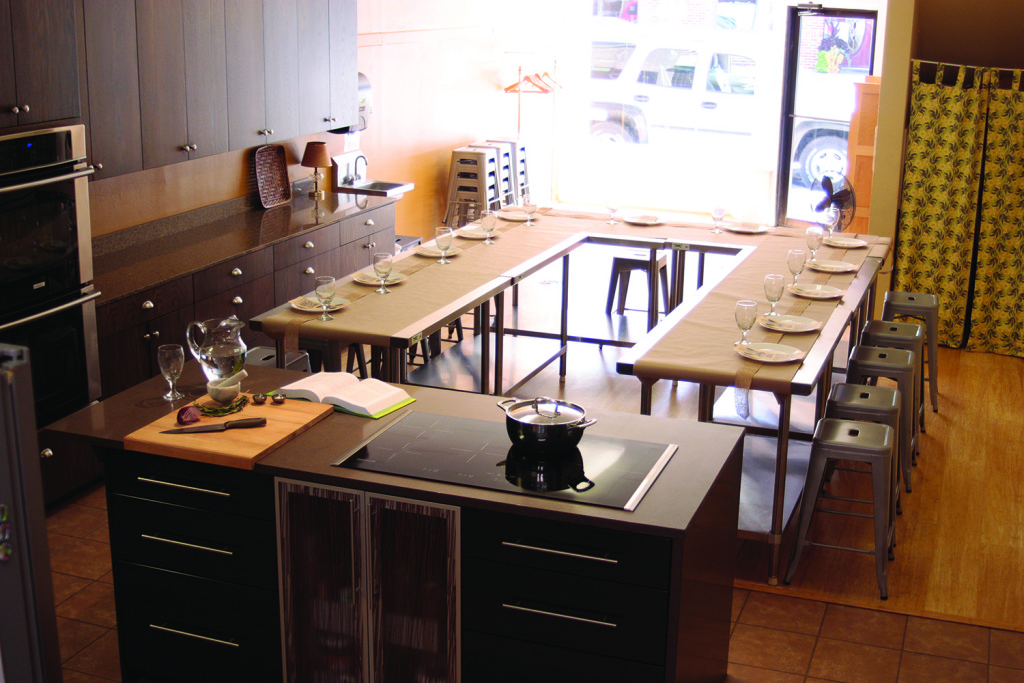 Whether gathering around the table to learn the art of cooking or simply spending time with friends and family celebrating the latest milestone, the Co-op Kitchen Classroom is a great space with functionality to fit your needs.
Designed as a teaching space for cooking, baking and other Co-op related educational efforts, the Co-op Kitchen Classroom has a wide variety of kitchen equipment – including numerous pots, pans, knives, spatulas, bowls, a food processor, Vitamix blender, and several portable cooking surfaces. (For a full list of supplies, click HERE.)
Here's what the Co-op and other local entities have used the space for:
• Cooking classes – from hands-on to lecture-style.
• Staff meetings – we use it for this purpose at least once a week.
• Board meetings – our Co-op board of directors use this space for their monthly meetings.
• Lunch meetings – we prefer if you pick up lunch and snacks next door at the Co-op and Water Street Café and bring it to your meeting – but outside food is allowed.
• Pop-up dinner events – chef-prepared meal in an intimate setting
• Brunch with friends – preparation and eating with family and friends
• Temporary retail setting – Seed Savers Exchange used the Co-op Kitchen Classroom as a temporary downtown retail setting during this past holiday season.
• Multi-week course offerings (non-Co-op) – it's a great space for a lecture-style class in a cozy setting.
• Film screenings – we have a screen and projector you can utilize for a small additional cost – or feel free to bring your own.
• Holiday baking party – with a double wall oven and a whole host of other equipment, this is the perfect space for a baking blitz of any kind.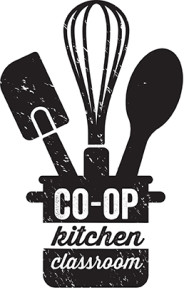 Please note that we have updated our fees for the use of the Co-op Kitchen Classroom to better reflect the value this space provides and the expenses that the Co-op incurs with upkeep of the space and equipment. These rates are effective March 1, 2016.
Rates below include 4 hours of rental time. Additional hourly pricing beyond the initial four hours is outlined below.
Level One – includes use of space, tables, chairs, restroom, refrigerator, freezer, and sink.
Cost: $30 member/owners; $50 community – each additional hour $10 member/owners; $15 community
Level Two – includes all items listed in Level One plus optional use of all kitchen equipment.
Cost: $60 member/owners; $80 community – each additional hour $20 member/owners; $25 community
Level Three – includes all items listed in Level One and Level Two plus the use of a staff member for teaching purposes.
Cost: $60 member/owners; $80 community members – plus additional $30/hr for staff member. Each additional hour – space rental $20 member/owners; $25 community – plus $30/hr for staff member. Additional planning/prep time by staff figured at $30/hr rate. Ingredients and other class supplies are not included in these charges.
NOTE: Please inquire about negotiable rates for low-income and non-profit entities.
Team Building can be Delicious
Making a meal together is a delicious way to build cooperation and camaraderie. Consider the Co-op Kitchen Classroom for your next team-building event. We are happy to work with your organization or group to put together a package to meet your needs.
To give you an idea of cost for a team-building session in the Co-op Kitchen Classroom, here's a possible breakdown of cost for an experience involving 10 people.
$80 space rental (4 hours)
$120 Co-op staff time – planning and facilitating
$200 cost of ingredients
Total Cost: $400
Cost Per Person (with ten people): $40
For more details, including a list of available equipment, please click HERE or email kitchenclassroom@oneotacoop.com.
To make a reservation or for more information about scheduling, please contact the Marketing Department at the Co-op at 563-382-4666 or email kitchenclassroom@oneotacoop.com.
CO-OP KITCHEN CLASSROOM GUIDELINES – pdf