Bulk Department Update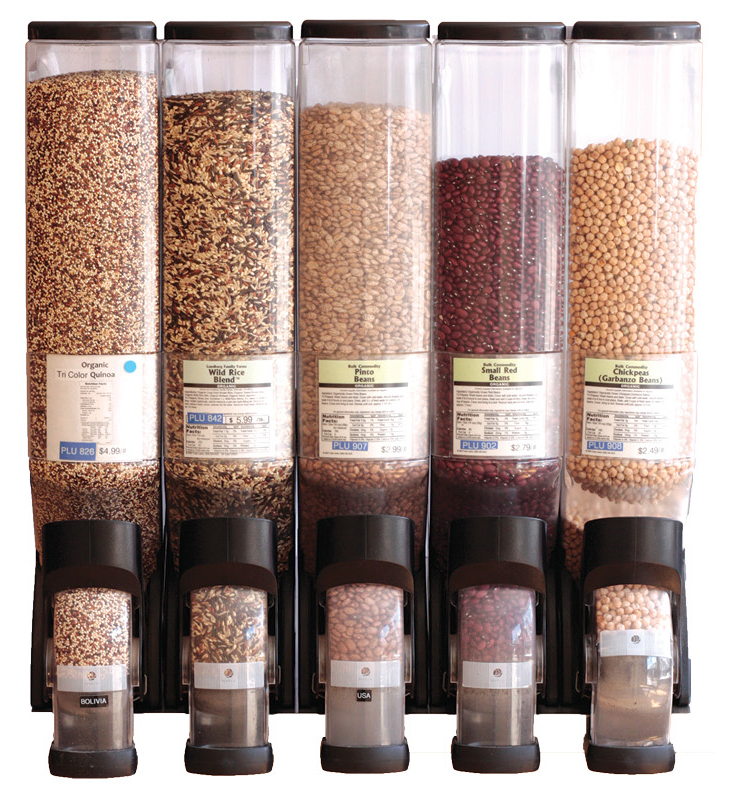 By: Nate Furler, Marketing Manager
It has been approximately six months since we started making serious changes to our Bulk department offerings and we have enjoyed the discussions that have risen to the surface – both positive and negative. We view this openness to communication from our member/owners and customers to be an asset to the success of our organization.
For both seasoned Bulk shoppers and new – here are a few exciting changes that have been made recently that you should know about.
Select Bulk Pantry Items –
New Lower Prices
The Co-op has identified about a dozen different pantry items, including organic quick oats, organic all-purpose flour, raw conventional almonds, organic white basmati rice, and organic raisins which will now feature lower pricing. These everyday price reductions equal from 17-25% off their previous retail pricing. Check out the new affordability on these Bulk pantry items the next time you stop in the Co-op!
Honey Gone Nutz Granola $4.99/lb
Commercial Quick Oats $.69/lb
Organic Quick Oats $1.19/lb
Organic All Purpose Flour $1.39/lb
Whole Wheat All Purpose Flour $1.19/lb
Eco Long Brown Rice $1.49/lb
Organic White Basmati Rice $2.79/lb
Raw Commercial Almonds $5.99/lb
Commercial Walnuts $4.99/lb
Organic Raisins $2.99/lb
Commercial Cranberries $2.99/lb
Back in Bulk Bins
We moved some of our best sellers of dried fruit back into Bulk scoop bins. Now you can find organic raisins, conventional cranberries, conventional apricots, banana chips, organic apple, and organic mango in scoop bins on the large west wall.
New Bulk Liquid Containers
With much joy from staff and shoppers alike, we upgraded our Bulk liquid containers to snappy stainless steel containers. No more plastic containers with questionable spouts. These beauties are all stainless and easy to use. Find organic olive oil, organic canola oil, organic sunflower oil, organic apple cider vinegar, organic vanilla extract, and organic tamari along the back wall of Bulk.
Three Fresh-Ground Nut Butters
The nut grinders aren't new, but the butters are tasty. If you haven't tried fresh-ground peanut butter or almond butter, you should ask a staff member for a sample the next time you pass through the Co-op Bulk department. These three grinders have seen many converts to their fresh, nutty flavor – minus all the ingredients you don't want. Simply ground nuts.
BYO Trail Mix – Going Going Gone
We are a bit sad to say that the Build Your Own Trail Mix section is no longer offered in the Bulk department. We ran the numbers and it was clear that pre-mixed trail mix was the item of choice for the majority of shoppers. You can find the pre-mixed trail mix options on the bottom shelf of the repack section in Bulk. (Insider Tip: Keep an eye out for the BYO Trail Mix to make an occasional appearance elsewhere in the store as a temporary display sometime this summer.)
Beautiful Packaging = Beautiful Waste
As a marketer and graphic designer I can appreciate the beauty of a creatively packaged retail item. But as an environmental steward, I need nothing more than a good, clean, reusable canning jar to hold my food. During a recent tour for John Cline kindergarten students at the Co-op, I realized something that I have been telling these students for years, but rarely speak to adults about. So, here for the adults in the world, is my favorite few lines during the tour:
"Think about this. Decorah has over 8,000 residents. How many is 8,000? Quite a few, right? And let's say that each person goes through a 16 oz container of peanut butter, or granola, or some other bulk item each week. How many weeks are there in a year? (Kids: 52!) Well what if every one of these 8,000 people made a commitment to reuse a container for just one item in their pantry that we carry in bulk? (Silence) So, picture this (holding 16 oz empty container from Bulk). What would 8,000 of these 16 oz plastic containers look like thrown into a pile on the ground? Would it be taller than you? (Kids: Yeah!) That would be 416,000 containers saved from recycling or the trash in one year. That would be enough to fill this entire department, floor to ceiling, with just these containers. (Silence) You, your moms, dads, aunts, uncles, grandparents, sisters, brothers…everyone…can make a difference just by how you shop for food. (More silence) Okay, let's go see the inside of a really big cooler…"