History
These four-plus decades have seen the Co-op grow from a small buying club of a few like-minded individuals to a large storefront owned by a diverse membership. The store today features Northeast Iowa's largest selection of bulk foods, as well as a wide variety of produce, nutritional supplements, body care items, packaged and frozen foods, and a deli that will knock your socks off! It also carries local, regional, and globally made fair trade and sustainable gifts and publications.
Oneota Co-op has had a significant and lasting impact on our local economy and agriculture, thanks to the vision and commitment of thousands of people, including member-owners, board, and staff.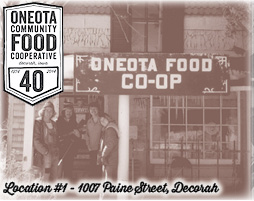 Our Co-op started in 1972 as an informal group of people making trips to Iowa City and Minneapolis to purchase natural foods in bulk. The group went on to form the Oneota Food Buying Club in 1973. Food was stored in members' houses, but interest and participation in the buying club grew and 1974 saw the incorporation of Oneota storefront at 1007 Paine Street, Decorah. At that time only members were allowed to shop, and all members were required to volunteer in the store. "Oleville," the nickname given to the store in honor of landlord Ole Youmans, was a distribution network for honey, whole grains, organically grown beans and products not otherwise locally available.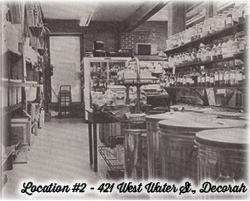 In 1978 the Co-op moved to the second floor of the old Armory building at 421 W. Water Street, Decorah. Benefit dances were held to raise funds for the move, and sales were extended to include non-members in order to increase business. The ordering, inventory control, cashiering and bookkeeping soon became too much for one person to handle. In 1981 the Board accepted a proposal for a collective management to replace the previous arrangement of one store manager. Fluctuating between four and six members, the new system offered an opportunity for diverse leadership to represent a broad public interest.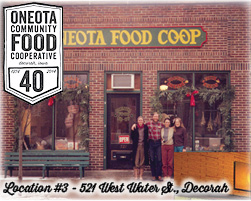 Given the inconvenience of the Armory's upstairs location and continued sales growth, in 1984 the Co-op enthusiastically relocated to 521 West Water Street, Decorah. Another big change came about in 1987 when the Board approved a proposal instituting the current membership share system. The proposal called for member/owners to purchase one share of stock valued at $140 to be paid in full or in annual installments of $20. This new system replaced the annual membership fee and gave the Co-op a "nest egg" with which to approach lending institutions for capital improvements.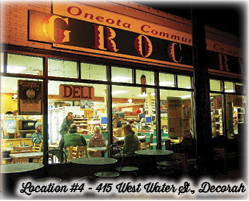 In 1994 the Co-op moved to 415 West Water Street, Decorah. During the 13 years spent there, membership grew from 200 to roughly 2000, sales grew from $436,000 to $2 million/year, and the staff grew in number from 6 to 42. It was at this location that the Co-op was able to more fully realize its mission to provide access to locally produced food, as the pool of producers grew to meet the increasing demand of Co-op member/owners. Also during these years the Co-op began collaboration with a variety of regional organizations who had come to have similar interest in promoting local sustainable agriculture, such as ISU Extension, the Chamber of Commerce, Luther College, and local commodity producers, as well as the Farmer's Market and Community Supported Agriculture.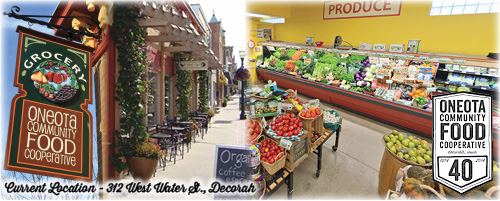 In January of 2008 the Co-op moved to its 5th and current location at 312 West Water Street, Decorah. This space is the former location of the Fareway Grocery Store. Imagine – when the Co-op first opened its storefront at Oleville in 1974, Fareway was the biggest grocery store in town, and now it is just enough space for us!