Grab-n-Growth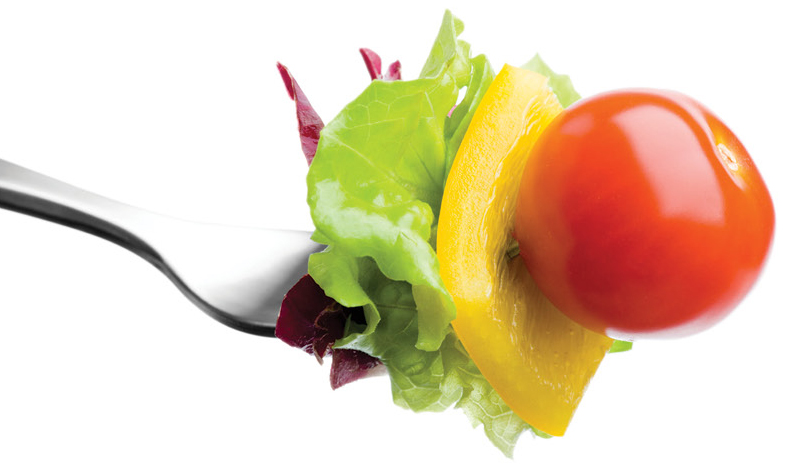 By: Nate Furler, Marketing Manager
As David expressed in his article, restaurant sales continue to outpace grocery sales. Not only are our wonderful local restaurants in Decorah benefiting from this trend, but so is our own Water Street Café.
A shift continues to happen where people are moving towards convenience, and away from planning and executing their own home-cooked meals. And even though pantry basics and whole food ingredient shopping remains an important core to our business, we realize the opportunity for our prepared foods department – the Water Street Café – to excel and shine.
Since 2010, annual sales for this department have doubled as well as roughly the number of staff in this department. Café staff have done a great job of getting more volume out of both the kitchen space and the retail space and we hope to continue to grow those efforts over the coming months and years.
Rapid growth has not been easy in the kitchen that was once spacious by our terms. Café staff work in close quarters, often bumping elbows and squeezing into less than ideal spaces to perform intense tasks that our large volume production schedule requires.
Because of this, we have had to get creative. Fortunately for us, we have a couple great organizations – food suppliers and co-ops in the Twin Cities, which have allowed us to expand our offerings while at the same time releasing some of the pressure from our own staff until we are able to grow our space. These two organizations are The Wedge Co-op and Co-op Partners Warehouse.
Co-op Partners Warehouse is a Midwest distributor of organic produce, dairy, soy, and juice servicing retail co-ops, natural food stores, and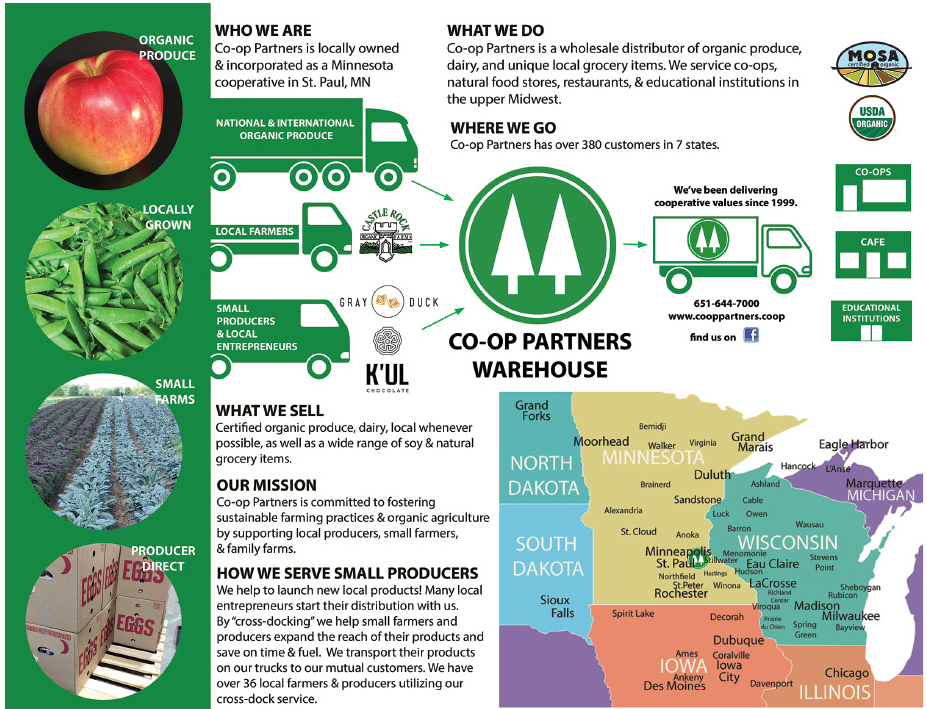 restaurants in the Upper Midwest. They began distributing organic produce in 1999 to area food co-ops in the Twin Cities. The Wedge Co-op was the organization that originally formed Co-op Partners Warehouse because they believed there was no other wholesaler in the region that adequately represented products from small, quality-focused organic growers. They felt it was important to source products from large organic brands without sacrificing their dedication to small, local producers. Both organizations are based
on the cooperative business model as well.
At the same time we were looking at our workflow in the Café to determine the best way to move forward, these organizations began expanding their offerings into large-scale production of various prepared salads. Using the same quality ingredients that we would procure from Co-op Partners Warehouse (CPW), they assemble large batches of various salads that are then made available to their customers – including the food co-ops of the Twin Cities and beyond. These tasty salads have been slowly making their way onto our grab-n-go shelves, with positive reviews from staff and customers alike.
The majority of the items in our Café continue to be made from scratch here in our own kitchen. From hummus and other dips, to fresh and grilled sandwiches and a scrumptious daily hot bar and soups, your Water Street Café continues to utilize the best in local and organic ingredients. We encourage you to stop in and try these new and old offerings and always welcome your feedback.